DePauw Students Run First-Ever Quiz Camp
July 24, 2001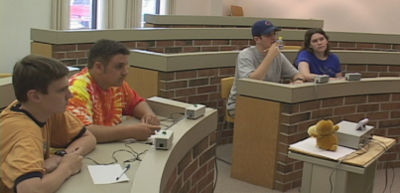 July 24, 2001, Greencastle, Ind. - Can you answer this question? "This unusual order of mammals contains three living species. Two of them are echidnas, or spiny anteaters. The remaining species is much better known, however, since they are oviparous and not completely warm-blooded. What is this order of mammals that contains the duck-billed platypus?"
While you mull over the answer (which you'll find at the end of this story), know that some young people can blurt out the correct response without missing a beat. Twenty-three high school students from Ohio, Illinois and Michigan are staying and learning on the campus of DePauw University in a "quiz camp," organized and run entirely by DePauw students.
Stan Jastrzebski is one of the founders of DUCKS (DePauw University Competitive Knowledge Squad), which has been to two national tournaments since being created two years ago. He and his DUCKS teammates came up with the idea of a summer camp for young people who take part in high school quiz teams.
[DOWNLOAD AUDIO: "The Idea" 56KB] "I posed (the idea) to a couple of my friends and they said 'yeah, we'd like to do that' so we went ahead with it," Jastrzebski explains. "What we're trying to do here is take high school quiz bowl players and give them a taste of the college game -- some of the questions, some of the strategies— and in the process make them better players, and hopefully, make their teams better as well," the DePauw junior says.
[DOWNLOAD AUDIO: "Taste of College" 55KB]
Here's another question for our players at home. "The name's the same: the boat in which Shelley was sailing when he drowned; a 1965 volume of poetry by Sylvia Plath; a moon of Uranus; and the
principal spirit in The Tempest. What's the name?" (Answer below)
Patrick Greene of Mahomet, Illinois will begin his junior year of high school in a few weeks. He's a member of his school's quiz team. At DePauw, he says he's "meeting a lot of new people and learning some things that I never knew existed and learning some useful skills that I'll probably use later on."
[DOWNLOAD AUDIO: "Good Experience" 47KB]
Another camper, Holly Jeffrey of Wheaton, Illinois, says "we're pretty much covering all the subjects that they cover in the quiz bowl, scholar bowls."
[DOWNLOAD AUDIO: "Touching the Bases" 27KB] Jeffrey says she's looking forward to increasing her knowledge of mythology. Other subjects include literature, history, geography, physics, mathematics and popular culture. Each camper will join in study sessions, quiz competitions and will take a diagnostic test before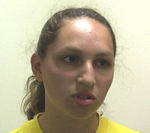 the week-long camp ends Friday.
While many football teams prepare for two-a-days under the hot summer sun, the quiz camp training is no less intense, albeit with a fair share of fun thrown in. "The Illinois High School Athletic Association sanctions these scholastic bowls," says Jastrzrebski. "It's right up there with football and basketball and baseball on their Web site. They host a state tournament for it and it's a big deal."
[DOWNLOAD AUDIO: "It's Competitive" 53KB] When parents ask these 23 young people what they learned at quiz camp, it's safe to say they'll get an answer.
To learn more about DUCKS go here: https://www.depauw.edu/student/orgs/listings/ducks.htm
(The answer to question #1 is : Monotremata. #2 is: Ariel)
Back