TV Coverage Spotlights Good Deeds of Students, Community
April 10, 2002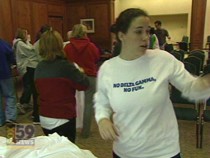 [DOWNLOAD VIDEO: "Sara King" 894KB] "Sorority girl, now chief volunteer Sara King, with others, is trying to help," WXIN-TV (Fox) reported hours after the dormitory fire. "We've got everything from shower shoes and tennis shoes to coats and toothbrushes and Post-it Notes and sweatshirts and jeans, we've got it all," King, a DePauw junior (seen in photo at top), told the Indianapolis television station as a camera roamed through the makeshift "boutique" set up in the Union Building ballroom. FOR LATEST STUDENT & PARENT INFORMATION CLICK HERE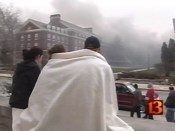 Even as the fire burned, students who did not live in Rector Hall took it upon themselves to start helping those who did call the dorm home. A WTHR story, which included an interview with displaced sophomore Matthew Pipes, reported,
[DOWNLOAD VIDEO: "Helping Hands" 636KB] "Starting from scratch isn't easy, so Matthew's classmates got busy." The station showed a student outside the Union Building offering clothing to students affected by the fire. Senior Rebecca Hedge told the NBC affiliate the volunteer help was coming in faster than it could be processed.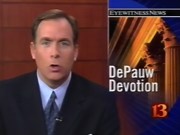 "We can't delegate fast enough," she said. "People are very task-oriented here and they want to help."
[DOWNLOAD VIDEO: "Help for Students" 680KB] "Loads of supplies were hauled in for the homeless students," noted CBS affiliate WISH, "and a makeshift kitchen was put into place. Students checked in and made calls home to worried parents, as new sleeping arrangements were found. Sororities and fraternities opened their doors to stranded students," the report continued. In a report that followed some of the students as they settled in new quarters,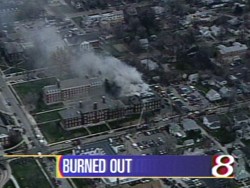 WTHR said,
[DOWNLOAD VIDEO: "New Accomodations" 1100KB] "They're doubling up in dorms." It showed a student welcoming her best friend in as a new roommate, and those who were moved into the Walden Inn on a temporary basis.
[DOWNLOAD VIDEO: "Resilient Students" 1400KB] "This is Danielle Hunsaker, and this is what's left of Danielle's room," began a story that aired on WXIN Monday night. As students began returning to their rooms, many were surprised to find many of their items were salvageable. "The
damage was minimized, they did a good job isolating it," sophomore Will Pfaffenberger told the Fox station. "I'm gonna be able to save a lot of my things here." Reporter Steve Draganchuk told his viewers that DePauw administrators believe the students
[DOWNLOAD VIDEO: "DePauw Family" 806KB] "are living up to the mission statement, which describes the University as one big family." Vice president for student services James Lincoln told Draganchuk one student said, "You know, I lost everything I have, but somehow you all have made it feel like home to me."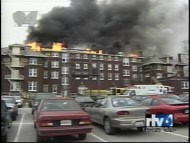 One hundred sixteen students were displaced by the Rector Hall. Almost all now have permanent accomodations for the remainder of the semester. By tomorrow afternoon, all of the students will know where they'll be spending the next five weeks. (See WRTV clip:
[DOWNLOAD VIDEO: "Pulling Together" 596KB])
The fire, which started in the northeast corner of Rector on the fourth floor, began just before 7:45 Sunday morning. All students were evacuated safely and there were no injuries.
Two firefighters suffered minor injuries while battling the blaze, which took approximately 100 firefighters from 12 departments about six hours to bring under control. Yesterday afternoon, the State Fire Marshal ruled the fire was caused by electrical appliances in the fourth floor room where the blaze started, but says because of heavy damage in the area, investigators cannot pinpoint which appliance was to blame.
"We've literally been inundated with calls saying, 'We could have people stay at our house, or we can transport people to the store,'" DePauw President Robert G. Bottoms told reporters Sunday. That sharing spirit has only intensified in the days that have followed. Supplies and assistance continue to come in,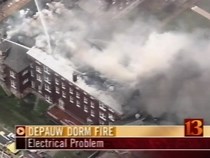 as do contributions to the Rector Fire Fund for Displaced Students, that will assist displaced students with grants and loans.
[DOWNLOAD VIDEO: "College Family" 515KB] "Students shaken, unnerved and unsure clothe themselves in the comfort of their college family," reported WTHR Sunday night. "Everyone accounted for, save the four story building they once called home."
You can read more about the fire in stories from Sunday, Monday and Tuesday.
Back