New School of Music Dean, Amy Lynn Barber, Performs First DePauw Recital Sunday
September 2, 2002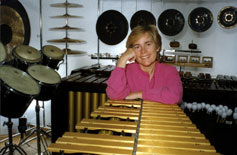 September 2, 2002, Greencastle, Ind. - This Sunday, September 8, at 3 p.m. in Thompson Recital Hall of the Performing Arts Center, DePauw University's new Dean of the School of Music and professor of music, Amy Lynn Barber, percussion, will present her first DePauw recital. She will be assisted by School of Music percussion students Aleksas Gylys, Tyler Munn, and Jason Slone. The program will consist of pieces for a wide range of percussion instruments, including the marimba, vibraphone, and an array of drums, gongs, cymbals, and smaller instruments.
Dr. Barber, a native of Massachusetts, lived for many years in Central Europe where she was professor of percussion at the Prague Conservatory for five years, and was an active soloist and chamber performer, a member of the Slovenian Philharmonic, and a frequent guest professor at European courses in percussion and contemporary music. Her solo performances include many European festivals (Prague Spring, Zagreb Biennale, etc.) and concert series in major halls with groups such as the Slovenian Philharmonic and the Prague Chamber Philharmonie.
Amy Lynn Barber is the founder and artistic director of the Percussion Plus Project, a unique contemporary chamber music group that has performed throughout Central Europe and is now ensemble-in-residence at DePauw University. Her special interest is the contemporary music of Central and Eastern Europe, and she has commissioned, premiered, and recorded over 50 new solo and chamber works. She has worked closely with many major composers, including George Crumb, John Cage, Hans Werner Henze, Karel Husa and others. An artist/clinician for Zildjian and Yamaha percussion companies, she has performed and lectured at universities throughout the United States, and has also been on the faculties of Texas Wesleyan University and the

Interlochen Arts Academy. She has degrees from Boston University, the University of Massachusetts, and the Hartt School of Music, where she earned the doctor of musical arts degree.
Dr. Barber's first DePauw concert, which is free and open to the public, will include works of Czech composer Lukas Matousek, Janez Maticic of Slovenia, Marta Ptaszynska of Poland, Japanese composer Minoru Miki, Mark Glentworth of England, and Americans Christopher Deane and Frederic Rzewski.
For more information, call (765) 658-4379 or send an e-mail by clicking here.
Back