Julian Center Work in Third and Final Phase; Expansion Creates New Opportunities for Teaching & Learning
February 20, 2003
February 20, 2003, Greencastle, Ind. - Fred Soster, professor and interim chair of geography and geology, says that when most people enter the atrium of the Julian Science and Mathematics center for the first time, they can be heard exclaiming "wow." Renovations to the Julian Center, which Dr. Soster is overseeing, are now entering the home stretch. Work began in the summer of 2001 on a project that essentially doubles the size of the structure, adding about 120,000 square feet of new space including the awe-inspiring three-story open atrium, and that's created new technology enhanced classrooms as well as areas for study and research.
In phase one of the project, crews removed the auditorium and outdoor patio from the front of the building, and created a huge addition on the east end (front) of the building, which opened this fall.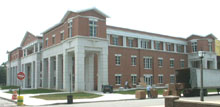 In the second phase, workers renovated the southern half of the original structure. The third and final phase of the project is now under way, involving renovation of the northern half of the old building. Soster says work will be completed by, or even before, the original projected completion date of August 1.
"Right now, what we're doing is finishing up demolition in the phase three area, the north half of the existing building," Soster explains. "Exterior framing is going up
and this week we should have the entire north side construction zone enclosed from the weather."
The professor says the new classrooms that have been created, which have multiple connections to the university's computer network and large screen projectors, are opening the door to new opportunities for teaching and learning. As an example, Soster says,
[DOWNLOAD VIDEO: "In Two Years Time" 316KB] "A short two years ago I was walking to class with a three-ring binder filled with notes, and now I walk to class with a laptop."
The new atrium, meanwhile, has become one of the most popular spots for study on campus. Spread throughout the three stories of open space are
[DOWNLOAD AUDIO: "Popular Study Space" 133KB] "nice tables and chairs and students are actually using the atrium as if it were a library," utilizing the many high speed Internet connections throughout the building to give their laptop computers access to the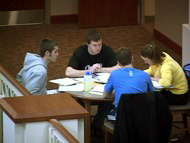 campus network.

[DOWNLOAD AUDIO: "More on the Atrium" 248KB] "I've noticed that some students are here consistently and return to the same chair," Soster notes.
A new social space for students debuted last month in the Walden Inn, which is located on the DePauw campus (read more here). In the fall of 2002, the University dedicated its new Peeler Art Center (read more here) and Holton Memorial Quadrangle (read more here).
Back