History is a Guide When Considering Consequences of War, NY Times' Phil Sayre '71 Says
February 24, 2003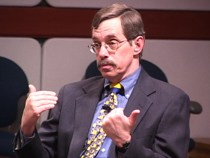 February 24, 2003, Greencastle, Ind. - When Phil Sayre, assistant national editor of the New York Times and 1971 graduate of DePauw University, talks about a possible war in Iraq, he stresses that he does so calmly and that conflict is still not a foregone conclusion. In his job, Sayre said he routinely marks out the word "inevitable" in stories by Times reporters and replaces it with the word "possible," despite persistent signs that Saddam Hussein and the United States are on a collision course.
[DOWNLOAD VIDEO: "Buying In" 835KB] "If you want to go to the most base characterization of the situation, it is that we are being asked to buy a war," Sayre said Thursday night in a speech in DePauw's Eugene S. Pulliam Center for Contemporary Media. "Any time anybody asks you to buy anything, the first question you should ask is what is the cost."
The veteran journalist said World War II left 400,000 Americans dead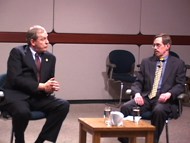 and more than a million others wounded, left the nation with the biggest budget deficit as a percentage of GrossDomestic Product in history and resulted in 50 years of U.S. military involvement in Europe. The Korean conflicted resulted in 50,000 American casualties, more than 400,000 wounded and, again, a 50 year U.S. involvement in that region. In Vietnam, 55,000 Americans lost their lives and more than 300,000 were wounded. By contrast, Sayre says the 1991 Gulf War left 137 dead and 700 wounded.
[DOWNLOAD VIDEO: "Another '91?" 1000KB] "I wonder which model, what sort of history people are thinking about when they are projecting having another war with Iraq. If we're looking to the 1991 war, we may be very short sighted and need to look back at the things that come after a war -- years and years of potential involvement in an area where this country may
or may not want to be involved." Sayre added that the conflict in which the United States achieved the poorest result -- Vietnam -- was the least popular with the country's allies, and calls that ample reason not to take on Iraq without large-scale allied support.
"Even though we may actually support the policy, I think we still have a need to ask the rational questions about the things that are likely to come out of a war with Iraq: what the cost will be and what the future is likely to bring as a result of that," he said.
Sayre said he thinks it's unlikely the United States could begin an offensive in Iraq before the end of March, as troops are not in position and will not be for some time. At the Times, Sayre says he'd like to spend less time covering troop movements and political maneuverings and more on the diplomatic efforts to avert a conflict, and on the potential financial and human
tolls a war would bring.
Phil Sayre has spent 14 years at the New York Times and has previously worked at the Messenger-Inquirer in Owensboro, Kentucky; the Argus Leader in Sioux Falls, South Dakota; the Trenton Times in Trenton, New Jersey; and the Record in Hackensack, New Jersey. Sayre spent Friday speaking to a class of freshman Media Fellows at DePauw.
Back