Bill Clinton Ponders "Vernon Jordan for President" as '57 Graduate Receives Trumpet Award
February 24, 2003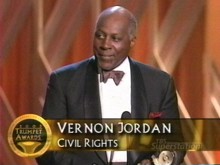 February 24, 2003, Greencastle, Ind. -

[DOWNLOAD VIDEO: "Vernon Jordan for President?" 289KB] "How about this? Vernon Jordan for president. Sign me up," former President Bill Clinton said in a taped message that was played as his former adviser received the Trumpet Award in a nationally-televised ceremony. Vernon E. Jordan Jr., senior managing partner at Lazard LLC, a major figure in the civil rights movement and 1957 graduate of DePauw University, responded by deadpanning,

[DOWNLOAD VIDEO: "The Response" 627KB] "If nominated, I'll not run; if elected, I'll not serve; if defeated, I'll demand a recount," as the crowd responded with loud laughter and applause.
Sponsored by Turner Broadcasting, the Trumpet Awards were created 10 years ago by Xernona Clayton, a CNN executive producer, to honor the achievements of
African Americans in a wide range of fields. The awards' Web site states, "Trumpet Award honorees have made enormous contributions to our society and clearly enriched the lives of many. They are a few of the many who have sacrificed and weathered the storms of racism, prejudice and discrimination. As we pay respect to them, we pay deferential regard to our predecessors who made us the beneficiaries of a life time of struggles." The program was taped January 6 at the Georgia World Congress Center in Atlanta and aired on cable's TBS Saturday night.

[DOWNLOAD VIDEO: "The Long Road" 1600KB]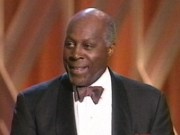 Vernon Jordan, a former president of the National Urban League, was honored for his life of work in the civil rights movement. "It's a joy, a very special privilege for me, to accept this award about 15 blocks from where I was born," Jordan said. "I was born in the first public housing project for black people in this country, University Homes... and what I know is that it's a long, long way from University Homes to the Trumpet Award. But I also know that I did not get here by myself."
Jordan continued,

[DOWNLOAD AUDIO: "Standing on Shoulders" 179KB] "I stand on a lot of shoulders -- a lot of people who went with me, stood by me and propped me up on every weak and leaning side. And so for them -- family, friends, co-workers -- I share this award, and thank you, and it's great to be back home in Atlanta."
Andrew Young, former U.S. Ambassador to the United Nations and former mayor of Atlanta, said in a video tribute to Jordan,

[DOWNLOAD VIDEO: "Andrew Young on Vernon Jordan" 443KB] "In everything he's done, his strength has been that he can love everybody, he can talk to everybody. I've seen him get hurt, but I've never seen him get angry."
Attorney Johnnie Cochran, who introduced Jordan and handed him the Trumpet Award (seen in photo at left), called him

[DOWNLOAD VIDEO: "Introduction" 1000KB] "the consummate bridge-builder. I'm proud to call you a colleague and a friend." Cochran added, "During the time when the darkest thing in corporate boardrooms was the coffee, Vernon Jordan led the way in integrating them."
Vernon Jordan was cited as one of "The Top 50 African Americans On Wall Street" in the October issue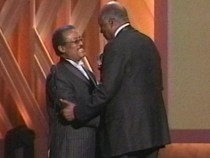 of Black Enterprise. In July, Forbes listed Jordan as the ninth most powerful black executive in America. A recipient of the National Association for the Advancement of Colored People's Spingarn Medal, Jordan authored the best-selling memoir Vernon Can Read! which has recently been reissued in paperback and book-on-tape editions. Mr. Jordan marked the original release of his book with a speech at DePauw's Old Gold Convocation on October 27, 2001, in which he spoke of his days as a student in Greencastle (access a story with video and audio clips here).
Other Trumpet Award honorees included basketball hall-of-famer Julius "Dr. J." Erving, actress Pam Grier, and filmmaker Spike Lee, who is coming to DePauw April 3 to deliver an Ubben Lecture (read more here).
Back