TechPoint Honors DePauw's 361° at Mira Awards
May 18, 2003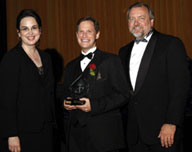 May 18, 2003, Greencastle, Ind. - DePauw University is among three Indiana colleges and universities to be cited for "excellence in the delivery or use of technology to further learning and educational achievement." 361°, DePauw University's technology initiatives, received a 2003 Mira Award Friday night from TechPoint, the leading agent for change for Indiana's technology industry, at its fourth annual awards banquet in downtown Indianapolis. (photo shows, l-r, TechPoint President Donna Gastevich, DePauw's Dennis Trinkle, and TechPoint Chairman David Becker, a 1975 graduate of DePauw University)
DePauw's 361°, Howard Rosenbaum of Indiana University's School of Library and Information Science, and Ball State University's IT Training Program were recognized at the event, held at the Indiana Roof Ballroom and attended by more than 600 members of the technology, education and business communities. Twelve initiatives were nominated including the Purdue University School of Technology, Indiana University's School of Dentistry and School of Nursing, the Indiana State University School of Technology, the Butler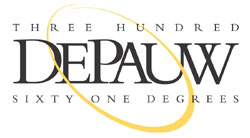 University Health and Counseling Center, I-Light: Indiana's Optical Fiber Initiative, the Center for Interactive Learning and Collaboration, Access Technology Across Indiana, and the University of Notre Dame. Only three programs, including DePauw's, were honored.
The Mira Awards, formerly known as CyberStar, focus the spotlight on the accomplishments of companies and organizations that operate in health and life sciences, information technology and manufacturing "The TechPoint Mira Awards acknowledge our technology leaders and help create more awareness of the technology industries in our state" says TechPoint President Donna Gastevich. "The Mira Awards are a great opportunity for the state's technology champions to showcase their products and services." DePauw was selected for demonstrating "excellence in the delivery or use of technology to further learning and educational achievement."
"The 12 educational programs nominated for the 2003 Mira Awards show that there is a wealth of energy, creativity, and progress throughout the state right now," says Dennis Trinkle, director of 361° Initiatives, associate coordinator of information services and technology, and Tenzer University Professor in Instructional Technology. "State leaders in higher education, government, and business recognize that Indiana's greatest opportunities for future prosperity and success will be through education and technology initiatives. It is a tremendous honor for DePauw's initiatives to be singled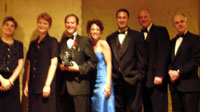 out for recognition from among such an impressive group of universities and programs. DePauw intends to play an active role in helping Indiana reverse the brain drain, foster research and innovation, attract and grow new businesses, and develop appropriate legislative policies. The Mira Awards demonstrate DePauw's early successes in each of these areas," adds Trinkle, a 1991 graduate of the University.
Just three weeks ago, DePauw was notified that The New Media Consortium (NMC) has named the University a New Media Center for its 361° initiatives (read more here). Since the NMC's founding in 1993, only about 125 institutions described by the organization as "exceptional, innovative and visionary" have been granted this designation, which "denotes an organization deeply committed to expanding the boundaries of teaching, learning, and creative expression." Dr. Larry Johnson, president and CEO of the NMC, noted, "Even among a very strong field, it was quite clear that DePauw University is a place where smart, creative people are devising innovative solutions to challenges we all face in teaching and learning. The dedication to excellence here is palpable, and students and faculty are the clear beneficiaries. This recognition is well deserved." (photo shows, L-R, Julianne Miranda, associate professor of music and assistant director of Faculty Instructional Technology Support (FITS); Carol Smith, director of FITS; Trinkle; Darlene Whitham, 361° initiatives secretary; Kevin Gearheart, coordinator of science
and technology internships and assistant director of the Information Technology Associates Program (ITAP); Larry Abed, director of television operations and instructor in communication arts and sciences; and Pete Ritz, vice president of finance for Orchard Software and a 1976 graduate of DePauw)
"DePauw has a long history of uncommon success because we put the emphasis on people," Dr. Trinkle notes. "We put people first, not technology. The Mira and NMC awards are terrific because they recognize the energy and efforts of literally hundreds of our faculty members, staff members, and students. These two awards honor DePauw's success in creating a culture of learning, collaboration, and innovation. DePauw's 361° metaphor captures this perfectly. These initiatives help prepare students for every direction of life after graduation, and they join all of our campus communities together to improve learning and forge innovative leadership."
361° was created with the aid of a $20 million grant from Lilly Endowment two years ago. Its goal is to establish DePauw as a national model for the marriage of digital fluency with the classic critical thinking, writing, and speaking strengths of a liberal arts education. Dennis Trinkle wrote of 361° in the inaugural issue of Transformations, an online journal dedicated to liberal arts education in the digital age (read more here).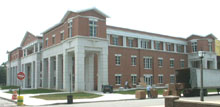 Last October, 361° hosted a symposium, "Beyond e: After the Shakeout, the Real Revolution," featuring a keynote speech by the internationally-renowned expert on artificial intelligence and best-selling author, Ray Kurzweil (read more here). For more information on 361°, click here.
TechPoint is the leading change agent for Indiana's technology industry. Its programs, member services, advocacy and economic development efforts drive the growth, development and retention of the state's technology clusters. Learn more by clicking here.
Back