2004 US News & World Report Rankings Show DePauw in Top Tier, Improving in Key Areas
August 22, 2003
August 22, 2003, Greencastle, Ind. - For the fourth consecutive year, DePauw University is in the top tier of America's national liberal arts colleges, according to U.S. News & World Report's 2004 rankings, released today. DePauw is ranked 40th, and the magazine reports that the University made gains on peer institutions in several significant areas.
The report also ranks "Great Schools at Great Prices," and again this year rates DePauw as among the best values in its category. Using a formula that factors in the ratio of quality to price, the percentage of all undergraduates receiving grants meeting financial need, and average discount,
DePauw is 22nd among national liberal arts colleges.
"While only one external barometer of DePauw's success, the U.S. News ranking is affirmation that this is a University of national significance," said DePauw University President Robert G. Bottoms. "As we continue to attract more of the nation's best and brightest students -- who are drawn by our quality faculty, state-of-the-art buildings and the alumni legacy of success that DePauw graduates enjoy -- the University has truly gained national stature. All of us can be pleased for what we have achieved, but mindful that, in a very competitive environment, we must continue to strive to make DePauw even better."
DePauw's graduation and retention rank (the 2004 rankings are based on 2002 data) climbed two positions to 38th; the average freshman retention rate of 89% was a one percent improvement;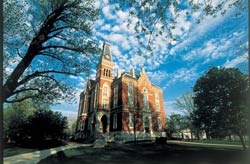 the percentage of incoming freshmen who were in the top 10% of their high school class climbed four points, to 56%; 72% of DePauw classes have fewer than 20 students enrolled, a 4% improvement from last year's report; the selectivity rank of 42 is one better than a year ago; and the alumni giving rate of 35% (up 1%) puts DePauw 83rd overall in that category, up sixteen spots from the last rankings.
"While the number of alumni giving to the University increased, for which we're very grateful, this remains a category in which DePauw significantly trails its peer institutions in the top tier," says Paul W. Hartman,
vice president for development and alumni relations. "Sustaining and improving upon the gains that DePauw has made in recent years –- in its academic programs and national reputation –- will require a significant increase in alumni support. There is much still to do, but I'm confident the pride and affection that alumni have for DePauw will help carry the University to even greater levels."
U.S. News also notes that DePauw is second among all of America's colleges and universities in the percentage of students who study abroad (89%). The 2004 report is available online at U.S. News' Web site now by clicking here(a subscription is required to access all of the data). The magazine and annual guidebook will both be on newsstands Monday.
Since first being ranked in the top-tier in 2000, DePauw has each year set new records for applications received,
and has become more selective in the students it accepts. This year's U.S. News rankings are being made public one day before 609 new students arrive to begin their college careers at DePauw. "If you look at the incoming class, you'll see that there continue to be more young people coming to Greencastle from distant locales, and their academic credentials grow stronger each year," noted Madeleine Eagon, vice president of admission and financial aid. "Students and their parents are increasingly aware of DePauw and its unique offerings: the internship, Winter Term and international study opportunities and the academic excellence provided here. Increasingly, students are coming to our office and saying, very early in the process, 'This is where I want to spend the next four years.' That's exciting, and underscores the fact that DePauw is the top choice of more talented students than ever before."
The top-tier ranking by U.S. News is one of a number of external validations that DePauw has received in recent months. The National Survey of Student Engagement (NSSE), co-sponsored by The Carnegie Foundation for the Advancement of Teaching and the Pew Forum on Undergraduate Learning, found that DePauw outpaces peer institutions and national averages in every category, including enriching educational experiences, supportive campus environment and level of academic challenge (read more here).
Released this week, the book, The Best 351 Colleges: 2004 Edition, describes DePauw's campus
"beautiful" and "easy to get around," and notes that the University has "great computer facilities" and a "great library." The editors write, "Chief among DePauw's innovations is Winter Term, a month-long session during which students can pursue 'many outstanding opportunities to do things you can't do in the classroom.' Winter Term allows students to undertake 'international and undergraduate research opportunities that are unparalleled.' " (read more here)
The 2004 edition of The Unofficial, Unbiased Insider's

Guide to the 328 Most Interesting Colleges cites DePauw as a top "hidden treasure", noting, "The education DePauw offers is specifically designed to hone students' analytical skills, perfect their writing ability, and ensure that they can think and speak effectively" (read more here).
DePauw's technology initatives, 361°, have received three honors for their innovation recently, including the
prestigious 2003 EDUCAUSE Award for Systemic Progress in Teaching and Learning (read more here).
"DePauw has a long history and many successes in its past. But what we're enjoying at present is historic and invigorating, and suggests that our future holds tremendous promise," said Dr. Bottoms. "As I tell students and alumni as well as faculty and staff, there has never been a better time to be associated with DePauw University."
Back