Third Building in Rector Village, Warne Hall, is Named
October 30, 2003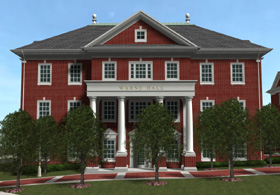 October 30, 2003, Greencastle, Ind. - Reflecting a commitment to support their alma mater, a long family connection with DePauw and an upcoming 50th class reunion, Jane (Leahy '54) and Richard A. Warne '54 of Indianapolis have committed $750,000 for Warne Hall (architect's drawing at left; wider view below). Located in the northwest corner of Rector Village and scheduled for completion in early 2004, the three-story brick residence hall will house 24 students in private rooms and will feature common kitchen and living areas. Rector Village, a complex of seven town-home style residence halls, is being constructed on the former site of Rector Hall, which was destroyed by fire on April 7, 2002. Warne Hall is the third building in Rector Village to be named.
"My family's history with DePauw goes all the way back to Indiana Asbury University [which was renamed DePauw University in 1884]," says Jane Warne (seen at right) said. "Eight members of my family, including our son (John G. Warne '79) and daughter (Kathleen Warne Tinnan '83), two cousins (Carolynn Rose Jones '53 and Sarah Rose Miquelle '58), and my husband's sister
(Margaret Warne Vail '58) attended DePauw." Both Jane Warne and her daughter lived in Rector Hall when they were students.
"Rector Hall had a long history, and that gave it [Rector Village] more than just passing appeal to us," Dick Warne further explained. "We had decided we wanted to put DePauw in our will, and this opportunity came up. The fact of the matter is, we were asked to give for a residence hall, and we're happy to give to DePauw because DePauw gave us a very good education."
Dick Warne (photo at left), retired vice president of finance for Eli Lilly and Company, graduated with a double major in economics and mathematics and Phi Beta Kappa honors.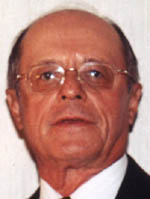 He was a member of Sigma Nu fraternity. He later earned a M.B.A. at Indiana University. Jane Warne, a member of Pi Beta Phi sorority, majored in French at DePauw. She devoted herself to being a homemaker and raising her family. She has been active as a community volunteer, particularly with the Crossroads Rehabilitation Center.
A past president of the DePauw Alumni Association, Dick Warne is the class agent for the Class of 1954 and a co-chair for its 50th reunion next year. He also is one of three members of the Class of 1954 who have established a $150,000 challenge to fellow class members for their 50th reunion gift. With their 50th reunion upcoming, he said it seemed to be the right time to make the gift for Warne Hall. Jane and Dick are longtime supporters of DePauw and lifetime members of the Washington C. DePauw Society.
In addition to his corporate career, Dick served on the boards of Boy Scouts of America Crossroads of America Council, YMCA, The Salvation Army, Mental Health Association,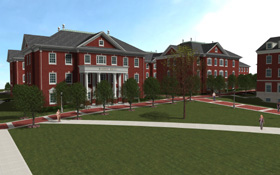 Indianapolis Day Nursery Association and Indiana Crime Prevention Coalition. He also was an executive-in-residence for The Robert C. McDermond Center for Management & Entrepreneurship at DePauw.
You can read more about Rector Village by clicking here. Read about the naming of Reese Hall here and Holmberg Hall here.
Back