A Second Building in Rector Village is Named as Construction of New Townhomes Begins
June 24, 2003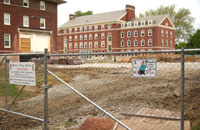 June 24, 2003, Greencastle, Ind. - An alumni couple who met as students at DePauw more than 50 years ago recognizes that dormitory life is different today but that a sense of community is still essential on campus, and they have contributed funds for one of seven suite-style residence halls in the new Rector Village being constructed on campus. Construction of Rector Village -- seven, three-story brick units that will house 136 students -- is now underway at the former site of Rector Hall, the 86-year-old dormitory on the DePauw University campus that was gutted by a fire on April 7, 2002. As seen in the photo above, crews have now removed the building and are preparing the site for the new townhomes.
Ronald K. Holmberg '54, retired executive vice president of Aon Corporation, and Cynthia Brooks Holmberg '56, live in Wilmette, Illinois, and became interested in the student living concept of Rector Village after earlier having established half-tuition scholarships for students from Chicago. The Holmbergs both graduated from Hirsch High School in Chicago but did not know each other at the time. They met only
after both became students at DePauw.
Holmberg Hall (architect's rendering seen at right) will feature a suite of four rooms on each of three floors for a total of 12 single rooms. It will include a living room, kitchen and eating room. The hall will be located along Hanna Street and is scheduled to be completed by fall 2004. It's expected that 48 of Rector Village's units will be ready for occupancy in the second semester of the 2003-04 school year, with the balance ready by the fall of 2004.
"Residential life in general is very different today than when we were there," says Ron Holmberg. "We like the idea of replacing the one big building [Rector Hall] with living units that are smaller, more intimate and with individual rooms." Of the townhome concept, Cynthia Holmberg adds, "We would have liked that. This is really the way dorms are going if you want to attract students today. Another important factor about Rector Village is that it retains the quadrangle and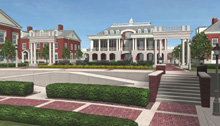 makes a community of people."
For Ron Holmberg, a double major in mathematics and economics at DePauw, his interest in Rector Village is partially due to the fact he was a member of Men's Hall Association. He worked at the Longden Hall desk from spring semester of his freshman year through first semester of his senior year. Active as a student in MHA activities, he continues to be involved in the MHA alumni organization. He served as chair of the MHA group that established an annual MHA scholarship for a rising junior or senior student to mark the MHA's 75th anniversary. He also serves as a co-chair for the 50th reunion of the Class of 1954 next year.
A member and treasurer of Delta Delta Delta sorority, Cynthia Holmberg was a four-year member of the University Choir and worked at WGRE radio. After receiving a degree in education at DePauw, she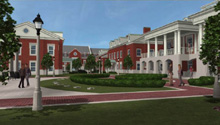 taught third grade before devoting herself to being a homemaker and raising four children. She has been very active in church and community activities, and she served her alma mater as a member of the Board of Visitors.
In retirement, the Holmbergs remain quite busy. Ron does volunteer consulting work for the Executive Service Corps in Chicago, serves on the Chicago Advisory Board of the Salvation Army, and is a board member and past treasurer of Music of the Baroque. Cynthia wrote a book, Blue Lake Lore, a history of the Wisconsin lake at which their vacation home is located. She continues to sing in the church choir and with other groups. They also travel frequently. The Holmbergs were co-chairs of the Chicago "Campaign for DePauw" during the "Campaign for DePauw: Leadership for a New Century,"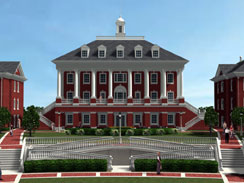 which was completed in 2000.
J. Gilbert and Louella Reese of Granville, Ohio, and their children contributed funds for Rector Village's center building, which will be named Reese Hall (architect's drawing seen at left; read more here). For more information on Rector Village, click here.
Read about the fire at Rector Hall, and view video clips, here, here and here. In the wake of the fire, DePauw built a series of duplexes, which have become extremely popular with students. Read about the duplexes here.
Back