Ground is Broken for Bowman Memorial Gymnasium
March 12, 1915
March 12, 1915, Greencastle, Ind. - During this month, groundbreaking ceremonies were held for the Bowman Memorial Gymnasium, "named for the former president and chancellor, Bishop Thomas Bowman, and funded in part by his daughter Sallie Bowman Caldwell and her husband," notes DePauw: A Pictorial History. The book adds, "this imposing structure provided not only much-needed indoor athletic facilities for both men and women, including a swimming pool, but also space that could be used as an auditorium for large university gatherings and meeting rooms for various student activities. The large Hugh Dougherty Room on the main floor, named for the president of the boardof trustees, was set apart especially for the use of the YMCA and YWCA. Bowman Memorial thus served for many years after its erection in 1916 as a student union as well as gymnasium."
The dedication of Bowman, in 1916, included a speech by former U.S. Vice President Charles Fairbanks. The building was razed in the mid-1980's.
DePauw Through the Years points out, "President [George] Grose in advocating the building of a gymnasium stressed two points in addition to its importance to the general physical education program. The attendance of women was gaining on that of men, and no more men could be attracted until a gymnasium had been provided. His second point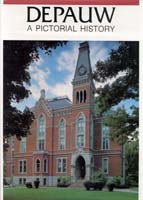 referred to the the use of a gymnasium for various public occasions."
University officials began discussing the need for a gym as early as 1879, the book notes. Before Bowman, "there had been nothing better than improvised quarters, 'dark and dingy,' in old West College.
DePauw: A Pictorial History was written by emeritus professors of history Clifton Phillips and John Baughman, with assistance from professors Harold Spicer and John Schlotterbeck and Wesley Wilson, coordinator of DePauw University's Archives.
The text and accompanying photos and illustrations, first published in 1987, can be found online by clicking here.
Back