DePauw to Award 535 Degrees; Rep. Lee Hamilton '52 is Commencement Speaker
May 5, 1998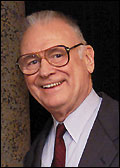 May 5, 1998, Greencastle, Ind. - U.S. Representative Lee H. Hamilton, a 1952 DePauw University graduate, will give the address when DePauw awards 535 degrees in its 159th Commencement on Saturday, May 23. The DePauw commencement is scheduled at 1 p.m. at the traditional location, the lawn of the East College building. In case of rain, the ceremony will be moved into the Lilly Physical Education and Recreation Center.
In addition to awarding bachelor's degrees to students, the university will present honorary degrees to two individuals. Ken Bode, dean of the Medill School of Journalism at Northwestern University, moderator of Washington Week in Review, the longest-running public affairs program on PBS, and former director of DePauw's Center for Contemporary Media, will receive a Doctor of Journalism degree. J. Warren Perry, a native of Richmond, Indiana, a 1944 DePauw graduate, and professor emeritus of health sciences and
dean emeritus at the State University of New York at Buffalo, will receive a Doctor of Science degree.
Lee Hamilton has had a congressional career spanning more than three decades. He has served as the U.S. Representative from the Ninth District of Indiana from January 1965 until the present. He is the senior member of the Indiana Congressional Delegation, ranking Democratic member on the Committee on International Relations and member and former chairman of the Joint Economic Committee. He is the former chairman of the Committee on Foreign Affairs, Joint Committee on the Organization of Congress, October Surprise Task Force, Select Committee to Investigate Covert Arms Transactions with Iran and the Permanent Select Committee on Intelligence. He is recognized as a political leader and was considered as a possible running mate by Democratic presidential nominees Michael Dukakis and Bill Clinton.
Prior to assuming the deanship at Medill, Bode served DePauw as the John D. Hughes University Professor and director of the Center for Contemporary Media. He is anchor, moderator and commentator for
WETA's (Washington, D.C.) coverage of congressional hearings and other news events. In addition to his work with Washington Week in Review during the 1996 presidential elections, Bode was a national political analyst and principal correspondent for CNN's Campaign USA '96 political coverage. In 1995 Bode's five-part series on the Republican presidential candidates, "The Challengers '96", a Washington Week in Review special series, was broadcast on PBS. In 1992 Bode covered the presidential election as a correspondent and analyst for CNN, and he was an anchor booth analyst with Bernard Shaw. Bode's documentary, The Public Mind of George Bush, won both the 1992 Joan Shorenstein Barone Award for Washington-based national affairs reporting and an Emmy. From 1979-89 Bode was national political correspondent for NBC News in Washington, D.C.
Perry is the founding dean of the School of Health Related Professions at SUNY-Buffalo. He has devoted his life to allied health education, a field in which he has been a pioneer. He is nationally recognized as an innovative educator, administrator, author, consultant

and leader in the development of health-care education. Perry helped establish the Association of Schools of Allied Health Professions and served as its second national president and founding editor of the Journal of Allied Health. He was the first allied health professional ever elected to the prestigious Institute of Medicine of the National Academy of Sciences. Perry received the Outstanding Philanthropist of the Year Award from the Western New York Chapter of the National Society of Fund Raising Executives in 1992. The Theodore Roosevelt Inaugural Site Foundation, of which he served as president from 1991-94, presented Perry with its 1997 Exemplary Citizen and Service Award. SUNY-Buffalo has established an annual health lecture series in his honor. His brother, Charles D. Perry, a 1929 DePauw graduate, served DePauw as professor and chair of the Department of Classical Languages from 1947-50.
Back