17th-ranked Tigers finish third at Border War Invitational
October 9, 2004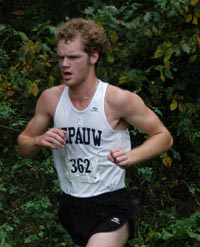 EDWARDSVILLE, Ill. - The 17th-ranked DePauw men's cross country team finished third at the Border War Invitational hosted by Southern Illinois University-Edwardsville andwere the top NCAA Division II or III finisher among the 26 schools.
Rend Lake College won with 77 points followed by Paradise Valley Community College with 88 and DePauw with 112.
Graham Wellman led the way with a sixth-place finish in 25:42.05, while Ben Stallsworth was 20th in 26:23.76. Jared Mann placed 23rd in 26:29.25 followed by Matthew Behrensmeyer in 32nd in a time of 26:48.48. Keith Marshall rounded out the DePauw scorers with a 38th-place finish in 26:55.95.
DePauw is at the Wisconsin-Parkside Invitational on Saturday, October 16.
 TRXC Landscaping, Inc.                                     Hy-Tek's Meet Manager
                     Border War XC Invitational - 10/9/2004                      
                                Edwardsville, IL                                 
                              Last Completed Event                               
                                   Team Scores                                   
=================================================================================
Rank Team                      Total    1    2    3    4    5   *6   *7   *8   *9
=================================================================================
   1 Rend Lake College            77    6    8   15   23   25  104  117          
      Total Time:  2:10:55.12                                                    
         Average:    26:11.03                                                    
   2 Paradise Valley CC           88    3   14   17   26   28   32   35          
      Total Time:  2:11:23.18                                                    
         Average:    26:16.64                                                    
   3 DePauw University           112    5   19   22   30   36   44   48          
      Total Time:  2:12:19.49                                                    
         Average:    26:27.90                                                    
   4 Lewis University            149   11   20   31   41   46   52   53          
      Total Time:  2:13:22.67                                                    
         Average:    26:40.54                                                    
   5 Emporia State University    176   18   21   33   49   55   67               
      Total Time:  2:14:02.53                                                    
         Average:    26:48.51                                                    
   6 Southern Illinois Univers   186    4   10   37   59   76   98  105          
      Total Time:  2:13:48.93                                                    
         Average:    26:45.79                                                    
   7 University of Southern In   194   12   13   45   58   66   69   85          
      Total Time:  2:14:11.72                                                    
         Average:    26:50.35                                                    
   8 Truman State University     205    9   27   40   51   78   84   87          
      Total Time:  2:14:50.78                                                    
         Average:    26:58.16                                                    
   9 Drury                       270   34   39   43   71   83   86   92          
      Total Time:  2:16:46.94                                                    
         Average:    27:21.39                                                    
  10 Missouri Baptist Universi   282    1    2   72   74  133  142  152          
      Total Time:  2:16:15.52                                                    
         Average:    27:15.11                                                    
  11 Central Missouri State      291   16   42   57   82   94  120               
      Total Time:  2:16:53.75                                                    
         Average:    27:22.75                                                    
  12 Pittsburg State Universit   330   47   60   64   70   89   90   96          
      Total Time:  2:18:07.25                                                    
         Average:    27:37.45                                                    
  13 William Jewell College      375   38   68   77   91  101  118  167          
      Total Time:  2:19:23.42                                                    
         Average:    27:52.69                                                    
  14 Bellarmine University       399   24   73   80  110  112  126  143          
      Total Time:  2:19:50.31                                                    
         Average:    27:58.07                                                    
  15 Uw-Whitewater               423    7   95  102  103  116  119  130          
      Total Time:  2:19:55.08                                                    
         Average:    27:59.02                                                    
  16 University of Indianapoli   433   54   65   81  109  124  136  137          
      Total Time:  2:20:39.70                                                    
         Average:    28:07.94                                                    
  17 Millikin University         449   50   63   97  100  139  140  155          
      Total Time:  2:21:28.45                                                    
         Average:    28:17.69                                                    
  18 William Woods University    473   56   62   99  122  134  138  149          
      Total Time:  2:21:47.76                                                    
         Average:    28:21.56                                                    
  19 Southwest Baptist Univers   475   75   88   93  108  111  146  151          
      Total Time:  2:21:36.12                                                    
         Average:    28:19.23                                                    
  20 University of the South     527   29  115  125  127  131  141  145          
      Total Time:  2:23:31.00                                                    
         Average:    28:42.20                                                    
  21 Lindenwood University       548   61   79  113  129  166                    
      Total Time:  2:28:27.88                                                    
         Average:    29:41.58                                                    
  22 Danville Community Colleg   600  107  114  121  123  135  148  164          
      Total Time:  2:24:58.88                                                    
         Average:    28:59.78                                                    
  23 Hannibal-LaGrange College   669  106  128  132  147  156  158  161          
      Total Time:  2:30:18.90                                                    
         Average:    30:03.78                                                    
  24 Wentworth Military Academ   773  150  153  154  157  159  160  165          
      Total Time:  2:39:17.53                                                    
         Average:    31:51.51                                                    
  25 Blackburn College           829  144  168  170  173  174                    
      Total Time:  3:12:32.58                                                    
         Average:    38:30.52                                                    
  26 Lincoln Christian College   837  162  163  169  171  172                    
      Total Time:  3:06:04.58                                                    
         Average:    37:12.92                                                    
 
Event 2  Men 8k Run CC
=======================================================================          
    Name                    Year School                  Finals  Points          
=======================================================================          
  1 Olinga, Denis-Bull        FR Mo. Baptist           25:27.84    1             
  2 Humphries, Tom            FR Mo. Baptist           25:28.52    2             
  3 Figueroa, Alex            FR Paradise Valley CC    25:30.99    3             
  4 Smith, Andrew             JR McKendree College     25:35.08                  
  5 Boyll, Ryan               SR S.I.U.E.              25:35.45    4             
  6 Wellman, Graham           SR DePauw University     25:42.05    5             
  7 Kunz, Justin              SO Rend Lake College     25:48.04    6             
  8 Garcia, Gary              JR Uw-Whitewater         25:53.45    7             
  9 Alvarez, Ricky            SO Rend Lake College     25:54.32    8             
 10 Klimek, Eli               JR Truman State          25:57.68    9             
 11 Taghon, Brian             JR S.I.U.E.              25:58.11   10             
 12 Tremble, Andy             SO Lewis University      26:02.06   11             
 13 Davis, Jesse              JR Southern In.          26:03.82   12             
 14 Schwartz, Doug            SR Southern In.          26:04.73   13             
 15 Jones, Maurice            FR Paradise Valley CC    26:05.62   14             
 16 Clark, Tim                SO Rend Lake College     26:06.03   15             
 17 Eder, Patrik              JR Cmsu                  26:18.28   16             
 18 Howery, Boyd              FR Paradise Valley CC    26:18.84   17             
 19 Applegate, Tyler          SR Emporia               26:22.11   18             
 20 Stallsworth, Ben          SO DePauw University     26:23.76   19             
 21 Anzalone, Larry           SO Lewis University      26:27.41   20             
 22 Stearns, Chris            FR Emporia               26:28.72   21             
 23 Mann, Jared               SO DePauw University     26:29.25   22             
 24 Simon, Brett              FR Rend Lake College     26:30.64   23             
 25 Wellerding, David         SR Bellarmine            26:32.56   24             
 26 Kunz, Jeremy              SO Rend Lake College     26:36.09   25             
 27 Maiyo, Joel               SR McKendree College     26:38.37                  
 28 Mendoza, Victor           FR Paradise Valley CC    26:40.21   26             
 29 Wells, Aaron              JR Truman State          26:46.88   27             
 30 Machado, Jorge            SO Paradise Valley CC    26:47.52   28             
 31 Ridley, Lucas             JR Sewanee               26:48.13   29             
 32 Behrensmeyer, Matthew     SR DePauw University     26:48.48   30             
 33 Thompson, Josh            JR Lewis University      26:51.06   31             
 34 Castro, Santos            FR Paradise Valley CC    26:51.43   32             
 35 Weston, Ryan              SR Emporia               26:51.83   33             
 36 Jolliff, Chad             FR Drury                 26:55.02   34             
 37 Dueling, James            FR Paradise Valley CC    26:55.45   35             
 38 Marshall, Keith           SR DePauw University     26:55.95   36             
 39 Steffens, Erik            FR S.I.U.E.              26:56.31   37             
 40 Taylor, Ray               SR W.J.                  26:56.70   38             
 41 Kanyaruhuru, Daniel       SO Paradise Valley CC    26:57.33                  
 42 Limberg, Chad             JR Drury                 26:57.72   39             
 43 Simpson, Jason            SO Truman State          26:58.17   40             
 44 Carrillo, Juan            SR Lewis University      26:59.46   41             
 45 Akers, Adam               FR Cmsu                  27:00.12   42             
 46 Mee, Ryan                 JR Drury                 27:00.46   43             
 47 Bennett, Chad             SO DePauw University     27:00.83   44             
 48 Garwood, Robert           JR Southern In.          27:01.49   45             
 49 Khamo, Sinan              FR Lewis University      27:02.68   46             
 50 Buntain, Charlie          SR Pittsburg St          27:03.11   47             
 51 McGrew, Chris             FR DePauw University     27:06.26   48             
 52 Stephens, Michael         FR Emporia               27:06.68   49             
 53 Baer, Justin              FR Millikin University   27:09.50   50             
 54 Kipkurui, Laban           FR Truman State          27:10.29   51             
 55 Northrup, Andrew          FR Lewis University      27:11.51   52             
 56 Fry, John                 FR Lewis University      27:11.82   53             
 57 Nickleson, Derek          SR Indy                  27:12.05   54             
 58 Wyant, Drew               SO DePauw University     27:12.66                  
 59 Wellman, Eric             SO Emporia               27:13.18   55             
 60 Cardenas, Larry           JR Lewis University      27:13.57                  
 61 Ogden, Jerald             FR William Wood          27:16.07   56             
 62 Merrigan, Matt            JR Cmsu                  27:16.38   57             
 63 Kime, Dusty               FR DePauw University     27:16.76                  
 64 Tyler, David              JR Southern In.          27:17.55   58             
 65 Verre, Mike               FR Lincoln College       27:18.38                  
 66 Fenstermaker, Ryan        SR DePauw University     27:20.35                  
 67 Sadowski, Jon             SR S.I.U.E.              27:22.58   59             
 68 Ballew, Aaron             FR Pittsburg St          27:27.14   60             
 69 Orange, Darren            JR Lewis University      27:29.26                  
 70 Foley, Chris              JR Lewis University      27:29.83                  
 71 Porter, Blair             UN Unattached           X27:32.01                  
 72 Williams, Charles         FR Lindenwood            27:33.69   61             
 73 Bates, Levi               FR William Wood          27:34.83   62             
 74 Huffman, Larry            SR Millikin University   27:36.75   63             
 75 Wright, Josh              SR Pittsburg St          27:38.91   64             
 76 Hogg, Peter               SR DePauw University     27:41.07                  
 77 Fredrick, Ron             JR Indy                  27:42.05   65             
 78 Toothman, Zach            SR Southern In.          27:44.13   66             
 79 Ternes, Brock             FR Emporia               27:44.41   67             
 80 Wombles, Clint            SO Lincoln College       27:46.29                  
 81 Long, Dustin              SO Lewis University      27:47.34                  
 82 Weseloh, Chris            SR W.J.                  27:47.79   68             
 83 Byrne, Joey               UN Southern In.          27:48.13   69             
 84 Stubblefield, Daniel      FR Pittsburg St          27:49.03   70             
 85 Frejo, Nathan             FR Drury                 27:50.08   71             
 86 Swinney, Corey            FR Mo. Baptist           27:51.54   72             
 87 Bazler, Joey              SO Bellarmine            27:52.41   73             
 88 Lawrence, Derick          SO DePauw University     27:52.74                  
 89 Maina, Patrick            FR Mo. Baptist           27:53.85   74             
 90 Bunn, Austin              SR SW Baptist            27:54.54   75             
 91 Cotner, Trae              JR S.I.U.E.              27:56.48   76             
 92 Hanson, Patrick           SO W.J.                  27:56.89   77             
 93 Robinson, Trey            SR Truman State          27:57.76   78             
 94 Sherwood, Bryan           FR Lindenwood            27:58.13   79             
 95 Beyer, Jason              JR Bellarmine            28:00.84   80             
 96 Weaver, Dennis            FR Indy                  28:01.71   81             
 97 Theriault, Neil           JR Cmsu                  28:02.67   82             
 98 Million, A.J.             JR Drury                 28:03.65   83             
 99 Wittrock, Eric            SO Truman State          28:04.80   84             
100 Asselin, Bret             FR Southern In.          28:05.63   85             
101 Van Arkel, Matt           FR Drury                 28:07.04   86             
102 Gebreselassie, Sam        FR Southern In.          28:07.38                  
103 Werner, Kurtis            SO Truman State          28:07.79   87             
104 Miner, Tom                SR SW Baptist            28:08.13   88             
105 Reichenberger, Lance      SO Pittsburg St          28:09.06   89             
106 Hansen, Nick              FR Pittsburg St          28:10.97   90             
107 Archer, John              JR Lewis University      28:12.95                  
108 Ziegler, Greg             SR W.J.                  28:13.64   91             
109 Bretscher, Daniel         JR DePauw University     28:14.14                  
110 Battaglia, Issac          SO Drury                 28:14.71   92             
111 McFarlane, Erik           SO Truman State          28:15.06                  
112 Sherrer, Brandon          SR SW Baptist            28:15.44   93             
113 Quinn, Lamar              SO Lewis University      28:15.96                  
114 Wall, Jarod               JR Cmsu                  28:16.30   94             
115 Myers, Adrian             SO Lewis University      28:16.63                  
116 Smith, Josh               FR Uw-Whitewater         28:17.00   95             
117 Johnson, Justin           SR Pittsburg St          28:17.36   96             
118 Jabaay, Robert            FR Millikin University   28:19.12   97             
119 Bozue, Josh               SO S.I.U.E.              28:19.50   98             
120 Gale, Daniel              FR William Wood          28:20.18   99             
121 Brophy, James             JR Millikin University   28:20.80  100             
122 Higgins, Doug             UN Unattached           X28:23.76                  
123 Roads, Rob                UN Unattached           X28:25.61                  
124 Onelio, Robert            SR Pittsburg St          28:26.06                  
125 Sather, Evan              FR Lewis University      28:26.45                  
126 Burdette, Emory           FR Lewis University      28:26.81                  
127 Siemers, Will             SR Southern In.          28:28.09                  
128 Guzman, Luis              SO W.J.                  28:28.40  101             
129 Knutson, Chris            FR Uw-Whitewater         28:28.69  102             
130 Drengler, Casey           FR Uw-Whitewater         28:28.99  103             
131 Roethlisberger, Lucas     SO Rend Lake College     28:29.89  104             
132 Rutchik, Sean             SO S.I.U.E.              28:30.33  105             
133 Getz, Brian               FR S.I.U.E.              28:31.36                  
134 Young, Caleb              JR Hannibal-LaG          28:34.20  106             
135 Poindexter, Nathan        JR Drury                 28:34.66                  
136 England, Jake             JR Southern In.          28:35.21                  
137 Fuiten, Britt             SO Danville              28:35.86  107             
138 Winckler, Brian           FR SW Baptist            28:36.60  108             
139 Porath, Steve             SO Truman State          28:37.05                  
140 Grace, Charles            SO Indy                  28:37.87  109             
141 Thomas, Justin            FR Southern In.          28:39.04                  
142 Shaw, Tony                JR Bellarmine            28:40.13  110             
143 Ferber, Rich              UN Unattached           X28:40.50                  
144 McElhaney, Corey          JR SW Baptist            28:41.41  111             
145 Smith, Lee                SO C.M.U.                28:42.02                  
146 Villa, Alberto            FR Lewis University      28:42.47                  
147 Strasburg, Andy           SO DePauw University     28:42.99                  
148 Zimmerman, Kevin          SO Drury                 28:43.87                  
149 Reed, Ryan                SO Bellarmine            28:44.37  112             
150 Bender, Steve             FR Lindenwood            28:45.32  113             
151 Pearson, Seth             FR Danville              28:45.90  114             
152 Castelli, Tony            SO Sewanee               28:46.37  115             
153 Severude, Eric            SO Uw-Whitewater         28:46.95  116             
154 Walton, Marcus            SO Rend Lake College     28:47.45  117             
155 Farmer, Ricky             FR C.M.U.                28:47.75                  
156 Mick, Aaron               FR W.J.                  28:48.07  118             
157 Wilson, Garrett           FR Uw-Whitewater         28:48.47  119             
158 Schroeder, Adam           JR Maryville             28:49.85                  
159 Fox, Brad                 JR Lewis University      28:52.35                  
160 Hammer, Jeremy            JR Cmsu                  28:53.47  120             
161 Stroupe, Patrick          SO C.M.U.                28:53.77                  
162 Young, Kenny              SR Southern In.          28:54.96                  
163 Huckstadt, Kyle           SO Danville              28:57.72  121             
164 Castillo, Aaron           FR William Wood          28:59.17  122             
165 DeSantis, Phil            FR Lewis University      28:59.42                  
166 Cooper, Joe               FR Drury                 28:59.75                  
167 England, Bryant           FR Truman State          29:00.04                  
168 Flake, Curtis             SO Danville              29:00.31  123             
169 Reef, Brandon             SO Southern In.          29:02.76                  
170 Schulze, Alan             UN Unattached           X29:04.97                  
171 Daugherty, Josh           JR Indy                  29:06.02  124             
172 Anthony, Jeremy           SR Sewanee               29:06.43  125             
173 Nason, Joe                SO Bellarmine            29:06.81  126             
174 Garrett, Jonathan         FR Pittsburg St          29:09.82                  
175 Mc Arthur, Brett          SO DePauw University     29:10.38                  
176 Schulteis, David          FR Pittsburg St          29:12.41                  
177 Crean, Kevin              FR Truman State          29:16.61                  
178 Lauer, Jared              FR Lewis University      29:17.22                  
179 Rybak, Steve              FR DePauw University     29:18.38                  
180 McGuire, Tym              JR Sewanee               29:22.37  127             
181 Prince, Mike              FR Rend Lake College     29:23.06                  
182 Lemons, Andy              JR Hannibal-LaG          29:25.50  128             
183 Fuchs, Joseph             FR Lindenwood            29:25.83  129             
184 Johnson, Josh             JR Uw-Whitewater         29:26.76  130             
185 Harper, Will              SO Sewanee               29:27.70  131             
186 Donovan, Erik             SR Lewis University      29:30.12                  
187 Mobley, Matt              SO Hannibal-LaG          29:33.45  132             
188 Hammontree, Chad          SO Mo. Baptist           29:33.77  133             
189 Nakano, Brent             FR DePauw University     29:34.49                  
190 Breneman, Lucas           FR William Wood          29:37.51  134             
191 Jackson, Matt             FR Rend Lake College     29:38.36                  
192 Deck, Travis              FR Danville              29:39.09  135             
193 Rud, Randy                FR Indy                  29:46.51  136             
194 Boughton, Kory            FR Uw-Whitewater         29:48.53                  
195 Morreale, Brandon         FR Lewis University      29:53.16                  
196 Phillipsen, Mike          FR Indy                  29:56.68  137             
197 Harmon, Andy              FR William Wood          29:57.57  138             
198 Snelson, A.J.             SO Drury                 29:58.46                  
199 Kamm, Gregg               FR Uw-Whitewater         29:59.82                  
200 Mosher, William           SO Millikin University   30:02.28  139             
201 Nemeth, Alex              JR Lewis University      30:05.53                  
202 Chwalek, Sam              FR Millikin University   30:06.20  140             
203 Burrier, Grant            SR Sewanee               30:06.72  141             
204 Maiyo, Hilary             FR Mo. Baptist           30:07.66  142             
205 Skinner, Mike             FR Lewis University      30:08.04                  
206 Schnieders, Darrell       JR Bellarmine            30:10.55  143             
207 Mordini, Richard          FR Blackburn College     30:12.58  144             
208 New, Bryce                FR Indy                  30:17.22                  
209 Brew, Joe                 FR Sewanee               30:17.86  145             
210 McMasters, Ryan           FR Indy                  30:19.84                  
211 Walton, Aaron             FR Rend Lake College     30:20.17                  
212 Haub, Michael             JR SW Baptist            30:20.59  146             
213 Schraft, John             SO Drury                 30:23.83                  
214 Barnwell, Caleb           FR Pittsburg St          30:28.93                  
215 Hokanson, Peter           JR Hannibal-LaG          30:29.66  147             
216 Rhoden, Tom               SO Danville              30:30.78  148             
217 Rogers, Kyle              FR William Wood          30:31.96  149             
218 Knott, Drew               FR Bellarmine            30:32.50                  
219 Gamez, Derik                 Wentworth             30:39.66  150             
220 Williams, Todd            FR Maryville             30:41.23                  
221 Yonce, David              FR Truman State          30:45.41                  
222 Echols, Tyler             JR Sewanee               30:47.33                  
223 Joggerst, Andy            JR SW Baptist            30:48.16  151             
224 Barnwell, Case            FR Pittsburg St          30:51.27                  
225 Syverson, Eric            FR DePauw University     30:52.36                  
226 Graham, Curtis            SO Maryville             30:53.18                  
227 Gulbrandsen, Kendal       FR DePauw University     30:58.64                  
228 Moore, Mike               FR Indy                  30:59.26                  
229 Roberts, Josh             JR Drury                 31:00.29                  
230 Anderson, Pat             FR Mo. Baptist           31:11.89  152             
231 Bohling, Chase            FR Truman State          31:16.65                  
232 Deterding, Stephen           Wentworth             31:34.17  153             
233 Sinak, Luke               FR Mo. Baptist           31:43.86                  
234 Rotich, Edwin             FR McKendree College     31:44.51                  
235 Sievers, Chris            JR Lewis University      31:44.77                  
236 Ragsdale, Jacob              Wentworth             31:46.98  154             
237 Jennings, Keith           UN Unattached           X31:48.24                  
238 Mitchell, Jon             SO Millikin University   31:53.00  155             
239 Woody, Brent              SR Mo. Baptist           31:59.47                  
240 Argo, Jordon              FR Hannibal-LaG          32:16.09  156             
241 Jenkins, Tim              FR Lincoln College       32:17.71                  
242 Bigley, Alex              FR McKendree College     32:19.17                  
243 Riley, Roy                SO Millikin University   32:24.56                  
244 Dreves, Andrew               Wentworth             32:27.27  157             
245 Johnson, Brock            FR William Wood          32:44.29                  
246 Taylor, Andy              FR Hannibal-LaG          32:48.36  158             
247 Stempel, Charles             Wentworth             32:49.45  159             
248 Smith, Stephen               Wentworth             32:51.08  160             
249 Phelps, Paul              SO Sewanee               33:02.38                  
250 Lucas, Dave               FR Hannibal-LaG          33:06.56  161             
251 Gennicks, Kyle            JR Lcc                   33:07.43  162             
252 Koller, Daniel            JR Mo. Baptist           33:26.47                  
253 Theiss, Brian             JR Maryville             33:38.61                  
254 Polley, Andy              GR Lcc                   33:40.15  163             
255 Heyduck, Ted              SO Illinois College      33:51.20                  
256 Ian, Turner               FR Sewanee               34:07.34                  
257 Haussy, Brandon           FR Danville              34:08.38  164             
258 Coale, Caleb              FR Millikin University   34:25.00                  
259 Collins, Jeff             FR Hannibal-LaG          34:34.28                  
260 Johnson, Roy                 Wentworth             34:41.78  165             
261 Ibeh, Andrew              FR Lindenwood            34:44.91  166             
262 Culmer, Kris              SR C.M.U.                35:39.05                  
263 King, James               SR Mo. Baptist           35:40.26                  
264 Helzer, Nick              SO W.J.                  36:07.00  167             
265 Hill, Trevor              FR Hannibal-LaG          37:45.00                  
266 Hodge, Josh               FR Blackburn College     37:59.00  168             
267 Plankis, Peter            FR Lcc                   38:01.00  169             
268 Snyder, Brian             SR Blackburn College     38:22.00  170             
269 Redmond, Jordan           JR Lcc                   39:47.00  171             
270 Rouse, Jesse              FR Lcc                   41:29.00  172             
271 Sandifer, Tom             JR Slcp                  41:32.00                  
272 Muller, Jeremy            SR Blackburn College     42:45.00  173             
273 Jones, Daniel             JR Blackburn College     43:14.00  174             
                                                                                 

Back