Noted Documentary Filmmaker Elizabeth Barret to Screen and Discuss Stranger with a Camera Wednesday
November 14, 2004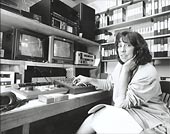 November 14, 2004, Greencastle, Ind. - Elizabeth Barret, producer and director of
Stranger with a Camera
-- "a film no one concerned with documentary can ignore," according to
Cineaste
-- will come to the DePauw University campus Wednesday, November 17. Barret will present and discuss her film in a Civic Education Convocation sponsored by the Bonner Scholars Program. The program will begin at 7 p.m. in the ballroom of the Memorial Student Union Building. It is free and open to all.
Stranger with a Camera examines the 1967 murder of documentary filmmaker Hugh O'Connor by eastern Kentucky landowner Hobart Ison. As Larry Daressa writes in Cineaste: "Named 'Top of the List' of the editor's choice of best videos of 2000 by the American Library Association's Booklist, the film offers an ideal opportunity to reexamine the idea of community-based filmmaking. Producer/ director Elizabeth Barret, an Eastern Kentucky native, is to be congratulated for posing a question all documentary filmmakers should ask themselves: 'What are the responsibilities of any of us who take images of other people and put them to our own uses?'"

At the end of Stranger with a Camera, Elizabeth Barret says, "I live every day with the implications of what happened. This is my community. My life is here. As a filmmaker I have the responsibility to see my community for what it is, to tell the story no matter how difficult."
Read more about the filmmaker and her work by clicking here.
Back