Ohio Newspaper Spotlights DePauw Sophomore and Women's Basketball Team's Success
November 13, 2004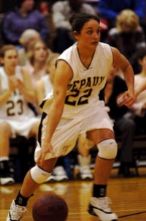 November 13, 2004, Greencastle, Ind. - A round-up of women's college basketball players who hail from the Ashtabula, Ohio area, notes, "No player enjoyed more success team-wise than Jordan Cuddy did a year ago at DePauw University, the alma mater of Ashtabula High School living legend Gene Gephart [DePauw '53]." The story in the
Star Beacon
continues, "Cuddy, a former Geneva great, and her teammates went 26-4 a season ago, with Cuddy averaging 8.1 points and 2.2 rebounds per game. More importantly, Cuddy led the team with 50 three-pointers, shooting an impressive 42.0 percent (50-119) from beyond the arc."
Writer Don McCormack adds, "Cuddy and her DePauw teammates open their 2004-05 season [November 19] at home against

Kalamazoo in a first-round matchup in the DePauw Tipoff Tournament."
Access the article by clicking here. Visit the Web site of DePauw's women's basketball team, ranked #8 in the USA in a preseason poll, here.
Back