Applications Being Accepted for Lessac Workshop at DePauw, July 17-22
April 25, 2005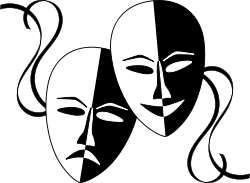 April 25, 2005, Greencastle, Ind. - For the second consecutive summer, the DePauw University campus will host the Lessac Voice and Body Summer Intensive Workshop, July 17-22. Theatre educators and professionals from across America are invited to apply for the workshop. Conducted by master teachers in the method, this introduction to the principles of the acclaimed Lessac Approach is targeted toward actors, singers, directors, presenters, or others interested in improving vocal quality and physical expressiveness.
At last summer's Lessac Workshop, visitors immersed themselves in a comprehensive approach to voice, speech and movement aimed at deepening human communication, behavior and creativity in performers. The method, used by colleges and universities, theatre companies and research institutions throughout the United States and abroad, was developed by State University of New York professor emeritus Arthur Lessac.
A Broadway performer and director, a distinguished keynote speaker, and a recipient of numerous honors and awards from colleges, universities and theatre associations nationwide, 95-year-old Arthur Lessac continues to practice and teach the approach today. His two books -- The Use and Training of the
Human Voice: A Bio Dynamic Approach to Vocal Life and Body Wisdom: The Use and Training of the Human Body -- have become required reading for countless students.
Participation in the workshop is limited to fifteen. Applications and information can be obtained by contacting Tim Good, assistant professor of communication and theatre at DePauw, at (765) 658-4486 or by sending an e-mail here.
Additional information on the Lessac Approach to Voice & Body Training can be found by clicking here.
Back