Prof. Thomas Dickinson Publishes Programs And Practices In K-8 Schools
May 7, 2005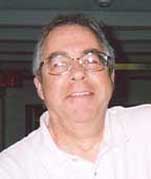 May 7, 2005, Greencastle, Ind. - Thomas S. Dickinson, professor of education studies, is co-author of
Programs And Practices In K-8 Schools: Do They Meet The Educational Needs Of Young Adolescents
. Published by the National Middle School Association, the book is a collaboration with C. Kenneth McEwin and Michael G. Jacobson.
"Recently, several large cities have initiated plans to reposition young adolescents from middle schools to K-8 schools," states a synopsis of the book. "These developments have attracted considerable interest and raised many questions. It appears that such moves are triggered by the failure of middle schools to produce satisfactory scores on the various tests that accountability efforts have put in place and are often viewed as a failure of the middle school idea... There is as yet almost no definitive research to answer the question of whether young adolescents in K-8 schools achieve better than they do in middle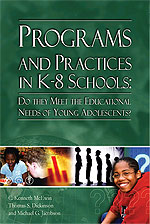 schools -- and none is likely to be forthcoming in the immediate future. But it is possible to compare the programs and practices that are provided young adolescents in K-8 schools with those same programs and practices that are provided in middle schools? By using the 2003 national status study and comparing the results with this new 2004 status study of K-8 schools, the researchers have provided valuable information not previously available. This publication warrants the serious attention of middle level educators and policymakers as they continue efforts to improve the critically important education of young adolescents."
Read more by clicking here. The book is also available at Amazon.com.
Dr. Dickinson holds a Nancy Shelly Schaenen Faculty Fellowship at DePauw.
Back