Senior VP Scott Storrer '89 Adds to His Responsibilities at CIGNA
June 9, 2005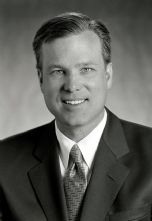 June 9, 2005, Greencastle, Ind. - Scott A. Storrer, a 1989 graduate of DePauw University, has been named to lead service operations and information technology for CIGNA Corporation (NYSE: CI). Storrer joined CIGNA in May 2001 and became senior vice president of disability management solutions and customer service for CIGNA's group insurance division. In October 2002, Storrer was named senior vice president of service operations for CIGNA HealthCare, and has served as interim head of CIGNA's information technology organization since November 2004.
"Scott's commitment to continually improving service operations and upgrading our consumer and health management technologies will help deliver a more responsive and cost-effective CIGNA benefits experience," says CIGNA chairman and chief executive, H. Edward Hanway. "His proven leadership ability will ensure that our service and information technology will become an even stronger competitive advantage for CIGNA."
Storrer came to CIGNA from Liberty Mutual Group "where he held a variety of senior leadership roles of increasing responsibility during an eight-year period," notes an article posted at Yahoo! Finance. "Prior to joining Liberty, he was with General Electric Company, where he was a graduate of the General Electric Financial Management Program. A graduate of DePauw University, Storrer earned a master's of business

administration from Boston University. In addition, he has attended several executive and financial management programs in the United States, Canada and Japan."
Read the complete text by clicking here. Visit CIGNA online here.
Back