Tom Lynch '83, Twice an All-American Golfer at DePauw, Tells Newspaper of New Challenge He Faces
June 29, 2005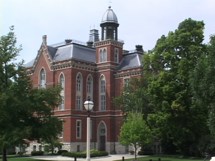 June 29, 2005, Greencastle, Ind. - "At DePauw University, he twice finished in the top 10 at the NCAA Division III Championship and was a two-time all-American," the Milwaukee Journal Sentinel writes of Tom Lynch, a 1983 graduate of DePauw University. "He won the Tripoli club championship three times in the four years he entered." The story spotlights an annual golf outing the Lynch family organizes to raise funds for retinitis pigmentosa, a degenerative eye disease that afflicts Tom and his sister, Kelly.
Lynch, "now 44 ... has lost 90% of his sight. His peripheral vision has gradually diminished and today he sees only through a small 'tunnel,'" Gary D'Amato writes. Tom Lynch tells the newspaper, "I don't live my life expecting that there's going to be a cure because I don't want to set myself up for disappointment. I want to prepare myself for blindness... I'm totally comfortable with what it is and what's in front of me. It gets a little less scary every year, even though I'm getting closer to blindness. I've found I can enjoy
this day, even though it is all about the disease. I see all these people coming here and it just means the world to me."
Read the complete article at the newspaper's Web site.
Back