Liz Bondi's Tennis Success and Dedication to Family Spotlighted by CBS Sports
July 2, 2005
July 2, 2005, Greencastle, Ind. -

[Download Video: "Part One" - 1300kb] "One of the favorites for the singles title is Liz Bondi of Indiana's DePauw University," noted a nationally televised CBS Sports program in a segment that was shot at the NCAA Division III Women's Tennis Championship in Kalamazoo, Michigan. Championships of the NCAA, hosted by Bonnie Bernstein, aired this afternoon. "The powerful southpaw is the school's top player and she also excels on another court, as a member of the basketball team," Bernstein said of Bondi, who will be a senior at DePauw in the fall.

[Download Video: "Part Two" - 2437kb] "For Bondi, family responsibilities have had a major effect on her sports career," the segment continued. "Liz lost her father in high school, and after her freshman year of college, her mom had double knee replacement surgery. Bondi decided to put family first and lend a hand." The story notes that Bondi "moved back home and spent a year away from the sports she loves."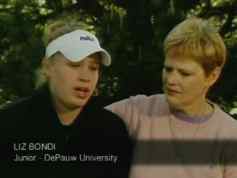 [Download Video: "Part Three" - 3903kb] "Coming back to DePauw was the best decision I've made, ever," Bondi tells the program, which also includes an interview with Liz's mother, Jo Ann Bondi, and highlights of Liz's Division III singles championship match.
Learn more about the women's tennis team at DePauw by clicking here.
Source: CBS Sports
Back