DePauw to Host DyKnow Technology Session Monday
July 22, 2005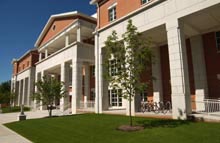 July 22, 2005, Greencastle, Ind. - DePauw University will play host to "DyKnow User Group 2005" on Monday, July 25. The event will bring together users of DyKnow Vision, which extends work originated by Dave Berque, professor of computer science at DePauw University. The technology allows students and teachers to share written information during class.
Learn more about Monday's event by clicking here.
DyKnow's technology, rooted at DePauw, is now being used in colleges and universities across America. Read more in this previous story.
Back