Retired New York Times Washington Correspondent Adam Clymer Here Monday
November 3, 2005
November 3, 2005, Greencastle, Ind. - Adam Clymer, chief Washington correspondent for the New York Times until his retirement in 2003, will bring stories of his life in journalism and covering the political process to DePauw University this coming Monday, November 7. Clymer will discuss "Chasing Leaks and Jailing Reporters: The Case of Judy Miller and 'Scooter' Libby" at 4:15 p.m. Presented by the Gertrude and G.D. Crain Jr. Lecture Series, the event will take place in Watson Forum of the Pulliam Center for Contemporary Media, and is free and open to all.
The author of Edward M. Kennedy: A Biography, Clymer began working at the Times in 1977, reporting extensively on politics, elections, and public opinion. Before joining the Times, Clymer worked at the Norfolk Virginian-Pilot, the Baltimore Sun and the New York Daily News.
Clymer himself became the topic of a national news story when, during a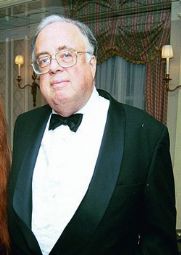 campaign stop in September 2000, presidential candidate George W. Bush said, within earshot of a microphone, "There's Adam Clymer, a major-league (expletive deleted)." Dick Cheney, who was standing next to his running mate, responded, "Oh, yes, he is, big time." The tape of the exchange became the fodder of evening news programs and political talk shows.
"I'd just as soon it hadn't happened," Clymer told The Hill. "Politicians get mad at stories. It happens. It rarely happens in front of an open microphone. I didn't resent Bush." The article, published in the newspaper of Capitol Hill, added, "Clymer said the worst aspect of the whole incident was the fact that he could not resume his campaign coverage because, the moment he got back on the plane, 'that day the story would be about me.' Read more by clicking here.
Endowed by Rance Crain, president of Crain Communications and a member of DePauw's Class of 1960, The Gertrude and G.D. Crain Jr. Lecture Series honors Mr. Crain's parents. Previous Crain Lecturers have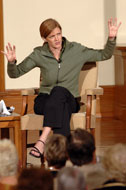 included Samantha Power (seen at left), author of A Problem from Hell: America and the Age of Genocide; Emily Wax, Africa Bureau Chief of the Washington Post, and her husband, Raymond Thibodeaux, who also covers the region for Cox News, Voice of America and the Boston Globe; Father Richard P. McBrien, Crowley-O'Brien Professor of Theology at the University of Notre Dame and a consultant to ABC News for papal events; political analyst Charlie Cook; FactCheck.org director Brooks Jackson; veteran political columnist Jack Germond; military sociologist Charles Moskos; historian Douglas Brinkley, author of Tour of Duty: John Kerry and the Vietnam War; David A. Keene, chairman of the American Conservative Union; and Joe Trippi, who managed Howard Dean's presidential campaign.
Back