Shari (Anderson) Mellin '72 Elected Chair of Elkhart County Democratic Party
February 6, 2006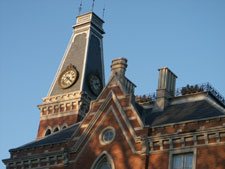 February 6, 2006, Greencastle, Ind. - Shari (Anderson) Mellin, a 1972 graduate of DePauw University, "just might have to turn down the next volunteer job someone offers her. Mellin's new role as chairwoman Elkhart County's Democratic Party will keep her busy enough. A party caucus elected her to the post Saturday, making her the Democrats' central champion and spokeswoman," reports Indiana's Elkhart Truth.
Mellin has been an active volunteer in her community for years with organizations including Prevent Child Abuse Indiana, Child and Family Advocacy Center, League of Women Voters and Elkhart Memorial (High School) Dollars for Scholars. She tells thenewspaper: "This is going to be like a full-time job. I may have to say no to some things in the future." Jason McFarley notes that Mellin "viewed the
leadership slot as an opportunity to boost the party's profile in a county where Republicans claim the wide majority of elected offices. No Democrat has won a countywide seat in more than 20 years."
"Government works best when you have a balance of both parties," Mellin states. "For a long time, it's been one party (in power) in Elkhart County, and I think we Democrats have felt like it is hopeless. I hope to turn some of that around and create awareness that yes, there are two parties in this county."
Access the complete article, which mentions Shari Mellin's "bachelor's degree in romance languages from DePauw University," by clicking here.
Back