Legacies of Dachau Author Harold Marcuse to Present Holocaust Remembrance Lecture Monday
April 5, 2006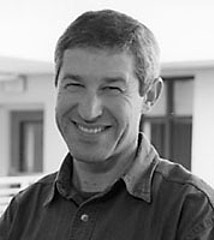 April 5, 2006, Greencastle, Ind. - Harold Marcuse, author of Legacies of Dachau: The Uses and Abuses of a Concentration Camp, 1933-2001, will deliver a Holocaust Remembrance Lecture at DePauw University next Monday, April 10. Marcuse, associate professor of history at the University of California- Santa Barbara, will discuss "The Uses of Dachau, 1945-2005." His speech will begin at 4:15 p.m. in Watson Forum of the Pulliam Center for Contemporary Media and is free and open to all.
Dr. Marcuse earned a bachelors degree in physics at Wesleyan University in Middletown, CT and an M.A. in history of art from the University of Hamburg, with a thesis about a 1949 memorial "to the Victims of National Socialist Persecution and the Resistance Struggle." In 1985, Marcuse co-produced a photographic exhibition on monuments and memorials commemorating events of the Nazi and World War II periods. The following year, he entered the Ph.D. program at the University of Michigan and wrote a dissertation about the post-1945 history of the former Dachau concentration camp, later published as Legacies of Dachau. Since 1992 he has been teaching history at UC-Santa Barbara.
"Dachau was the first concentration camp to be set up," writes George Cohen in Booklist. "More than 200,000 prisoners were held there, and about 35,000 were documented to have died or been killed there. In the first 50 years since it was liberated, in April 1945, more than 21 million people visited the site. How did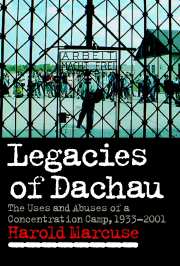 the Dachau memorial site come to be? What are the lessons it teaches, and who decided how to convey them? Marcuse wrote this book to provide answers to those questions... This massive study is a crucial and definitive account of one important aspect of the Holocaust."
Legacies of Dachau was honored with the 2002 Choice Outstanding Academic Title Award and, the same year, was the recipient of the Hans Rosenberg Book Prize.
While at DePauw, Harold Marcuse will also present a bring-your-own-lunch talk, at 12:30 p.m. in the "fishbowl" of the Memorial Student Union Building. There, he will discuss "Martin Niemoller's famous quotation: 'First they came for the communists...'" The lunchtime talk is also free and open to the public.
Back