New Yorker Magazine Features NAVTEQ and CEO Judson Green '74
April 29, 2006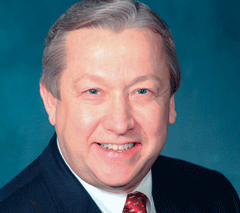 April 29, 2006, Greencastle, Ind. - Judson C. Green, president and CEO of NAVTEQ Corporation and 1974 graduate of DePauw University, tells New Yorker magazine that his company is "revolutionizing the way people think about and interact with maps." Green's firm is "the leading provider of geographic data to the Internet mapping sites and the personal-navigation industry," writes Nick Paumgarten in a lengthy look at how NAVTEQ is mapping the world and changing the way we navigate it.
"This technology is going to be pervasive," Green continues. "One thing we're talking about is potentially having digital maps inform the operation of the car. If you put a digital map in the engine of a car, you may have headlights turning in anticipation of the curvature of the road." With a global positioning system, Green says, "A mobile consumer can get all kinds of questions answered. Where are my buddies? Where's my family? Where are my kids? Where can I find a barbecue grill within ten miles for less than four hundred dollars?"

Paumgarten notes that NAVTEQ's "only real competitor is a Belgian company called Tele Atlas. Most of the Web sites, car manufacturers, and gizmo-makers -- anyone involved in what are known as intelligent transportation systems -- get the bulk of their raw material from these two companies."
Published in the New Yorker's April 24 edition, the piece is entitled "Getting There: The science of driving directions." Access it online at the magazine's Web site.
Last month, Judson Green -- a member and past chair of DePauw's
Board of Trustees -- was elected to the board of directors of DreamWorks Animation.
In October 2005, DePauw University announced that a $15 million dollar lead gift by Judson Green and his wife, Joyce Taglauer Green '75, will allow for a $29 million expansion and renovation of DePauw's 32-year-old Performing Arts Center (architect's rendering seen at left). The building, home to the School of Music and department of communication, will be known as the Judson and Joyce Green Center for the Performing Arts. Work is under way, and should be completed by the Fall of 2007. Learn more about the project in this previous story. You can see time lapse video of the construction project (updated regularly) by clicking here.
Back