New University's First Professor Arrives in Greencastle
May 16, 1837
May 16, 1837, Greencastle, Ind. - Cyrus Nutt, Indiana Asbury University's first professor, arrived on campus today, finishing the last leg of his long journey from Pennsylvania on foot. Reverend Nutt's arduous 16-day journey from the East included travel by steamboat, stagecoach, and on a haywagon.
Nutt, who twice served as acting president of the University (1837-39 and 1857-58), wrote in his diary, "From Indianapolis was a stage route forty miles to Putnamville which was the nearest point which could be reached by public conveyance to Greencastle. I left Indianapolis at day break in the morning and arrived at Putnamville at about four p.m. From Putnamville I rode in a wagon that was going out for hay some two miles; the remainder of the distance was three miles which I walked, reaching my journey's end at 12 a.m. on the 16th of May 1837."
Nutt had graduated a year previously from Allegheny College and had served as an instructor in its preparatory department. At Asbury, George B. Manhart wrote in DePauw Through the Years,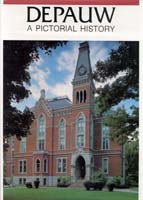 "he was employed at a salary of $400, to be paid semi-annually." When Asbury's preparatory department opened about 20 days after Nutt's arrival, classes were taught in the ABC school. "At first he had five pupils, 'barefooted and without coats,'" Manhart reported.
Learn more DePauw University in DePauw: A Pictorial History. Written by emeritus professors of history Clifton Phillips and John Baughman, with assistance from professors Harold Spicer and John Schlotterbeck and Wesley Wilson, coordinator of DePauw University's Archives, the book was first published in 1987. The text and accompanying photos and illustrations can be found online by clicking here.
Back