Matthew Simpson Elected Asbury's First President
February 7, 1839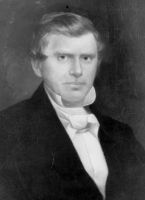 February 7, 1839, Greencastle, Ind. - By a unanimous vote, Matthew Simpson was elected Indiana Asbury University's first president today by Asbury's Board of Trustees. Formed two years ago, Asbury now has 123 students in all levels.
Born in Cadiz, Ohio in 1811, Simpson learned to read at age three. "His formal schooling was limited to a short period in an academy in Cadiz and two months in Madison College (Uniontown, Pennsylvania)," wrote George B. Manhart in DePauw Through the Years. "He spent three years in Freeport, Ohio, reading medicine and assisting a physician, and then practiced medicine eight months in Cadiz. He was also preaching, and was ordained by Bishop Robert R. Roberts... He was planning to enter Allegheny College as a student, but found that unnecessary when the college in 1837 awarded him an honorary A.M. and invited him to join his faculty. He served as professor and vice president for two years, teaching primarily sciences, including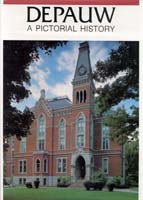 navigation and surveying," Manhart reported.
Simpson arrived in Greencastle in late April and assumed his duties in May.
Learn more DePauw University in DePauw: A Pictorial History. Written by emeritus professors of history Clifton Phillips and John Baughman, with assistance from professors Harold Spicer and John Schlotterbeck and Wesley Wilson, coordinator of DePauw University's Archives, the book was first published in 1987. The text and accompanying photos and illustrations can be found online by clicking here.
Back