DePauw Wins Regional Ethics Bowl for Third Consecutive Year
November 13, 2006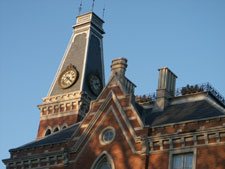 November 13, 2006, Greencastle, Ind. - For a third consecutive year, a team representing DePauw University has won the Central States Regional Ethics Bowl, held over the weekend on the campus of Marian College in Indianapolis. The eighth annual event featured 15 squads from colleges and universities in Indiana, Illinois, Ohio and Kentucky. By virtue of the victory, the DePauw team earns the right to compete in the 13th annual National Ethics Bowl which will take place in Cincinnati in February.
The DePauw team members are, left to right in photo below:
Nick Casalbore, junior, philosophy major (also an Honor Scholar and Management Fellow)
David Cylkowski, sophomore, philosophy major
Kelly Gagnon, junior, philosophy and English writing double major
Jaclyn Harr, captain, senior, philosophy and economics double major
Marcia McKelligan, professor and co-coach
Robert D. Newton, professor and co-coach
Lauren Lefebvre, sophomore, philosophy major
Emily McGill, junior, philosophy and Latin double major (also an Honor Scholar)
"We have not had a more talented or hard-working team in the seven years DePauw has been going to the regional Ethics Bowl," says Marcia McKelligan, professor of philosophy and one of the team's two coaches. "Our team's performance was virtually flawless, and I have great confidence in our prospects at the national level."
Co-coach Robert D. Newton, Blair Anderson and Martha Caroline Rieth Professor of Applied Ethics and professor of philosophy, adds, "This is an outstanding achievement based upon immeasurable dedication, hard work, and performance. I am proud of our students, and am certain the DePauw community shares in that pride."
DePauw is creating the Janet Prindle Institute for Ethics, which will be located in the University's Nature Park. Read more in this previous story.
Back