Students Testify Before Indiana Legislators and Have "Major Impact" Over Winter Term
January 28, 2007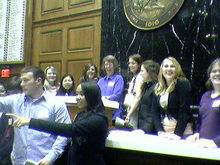 January 28, 2007, Greencastle, Ind. - Two DePauw University first-year students who spent Winter Term in a "Prisons and Public Policy" class -- Renee Deaton and Caroline Peterson -- appear on the front page of the Indianapolis Star's "Voices" section today. The students were among twelve from DePauw who traveled to the Indiana Statehouse last Tuesday to offer their opinions on matters that lawmakers are now considering."
Deaton spoke out on a bill to provide funding for cervical cancer vaccines. ""An estimated 10,000 women a year contract cervical cancer and 4,000 of those die from the disease. This new vaccine is 100 percent effective," Deaton said. "The estimated cost is $2.7 million in Indiana, but that is only a drop in the bucket in the annual $2 billion that is spent nationally on cervical cancer... This isn't
about sexual freedom, but rather preventing loss of life from cancer."
Comments from Deaton and fellow DePauw freshman Paige Dukeman appear in video clips posted at the Web site of Indianapolis NBC affiliate WTHR. You can access the file by clicking here and then selecting the January 24 "People's Agenda."
The Star article also includes a quote from Caroline Peterson on a bill before the Indiana Senate that would create stiffer penalties for those who deal drugs within 1,000 feet of a church. "Senate Bill 2 would require most prison inmates in Indiana to serve 85 percent of their sentences," Peterson says. "(It) will cost Indiana nearly $115 million a year to operate new prisons. Half of all prisoners don't graduate from high school... Shouldn't that $115 million a year go toward... giving kids education, keeping them off the street and away from prisons in the future?"
Access the Star story by clicking here.
A total of seven students from the Winter Term class testified before a Senate committee on prison issues earlier this month. "Four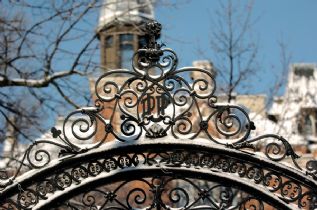 of them, Keelin Kelly, Becky Murphy, Curtis Moore, and Megan Tucker-Hall, had a major impact" as the panel discussed Senate Bill 2, reports Kelsey Kauffman, part-time assistant professor of University studies, who led the class. "With the help of Beth Wilkerson in DePauw's GIS Center, the students produced large maps that showed how the bill would create vast overlapping zones that would cover most black and Hispanic neighborhoods in Indianapolis, but leave most predominately white areas unaffected. They testified for about 20 minutes before the committee, complete with vigorous, at times quite aggressive, questioning by committee members, but held their own. As the chair and sponsor of the bill repeatedly bemoaned, this was supposed to have been an "easy" bill. Instead, the students' testimony provoked nearly an hour of impassioned debate.
"Though they lost in committee 6-5, the opposing senators borrowed their maps and vowed to fight the bill on the floor. We returned the following week to watch the nine of the Republican senators join with all the Democrats to gut the bill. If a similar bill gets heard on the House side, they plan to testify there as well," the professor states.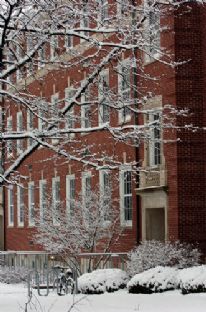 Another three DePauw students provided testimony this month on a bill dealing with sentencing guidelines for neglect of a dependent. "Jasmin Sarvida raised questions about that bill that led the Senators to amend it (unanimously) in committee," Kauffman says. "Wherever the students went, senators stopped to congratulate them and ask why they weren't working on behalf of their bills."
The professor says the Winter Term experiences demonstrate "the impact that students can have through careful research. Although over the past decade the legislature has created 'drug free' 1,000 foot zones around schools, parks, housing developments, and youth programs, no one had ever bothered to map the results. I told the students that, assuming the current bill is not resurrected in the House, they will have had a major impact on the lives of real people who, for better or for worse, will spend 10 or 20 fewer years in prison than they otherwise would have. Not many college freshmen can say that."
Read more about the Prisons and Public Policy class and DePauw's other on campus 2007 Winter Term offerings here.
Back