Gretchen Cryer '57 and Nancy Ford '57 Collaborate on Musical Version of Classic Novel
April 8, 2007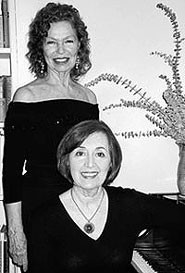 April 8, 2007, Greencastle, Ind. - Nancy Ford says she and longtime collaborator Gretchen Cryer -- both 1957 graduates of DePauw University -- "may be the only 2 women in the world who never read this book when we were growing up." Ford (music) and Cryer (book and lyrics) have teamed on a new musical adaptation of the classic novel, Anne of Green Gables. The show is playing at the Lucille Lortel Theatre in New York City through May 5. (photo, l-r: Gretchen Cryer and Nancy Ford)
Ford tells Broadway World that she and Cryer "were talking to TheatreWorks about doing a show for them because Gretchen and I had written shows for the American Girls. We wrote the American Girls Review and Circle of Friends that are playing in New York and Chicago and Los Angeles. And we loved writing for young people so we talked to TheatreWorks and said, 'Have you got a project?' and they said, 'Well how about Anne of Green Gables?' and we said, 'We'd have to read it.' And we did. And we just fell in love with the story. I mean, yes it's kind of a children's story but it has so much in it that's for adults too. It's just very heartwarming and a delightful story."
Ford continues, "Anne is just this girl with this tremendous imagination. And it's her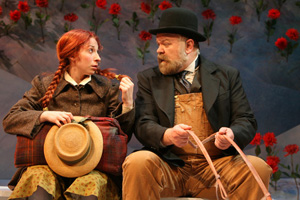 imagination that gives her a life. Otherwise her life would be tragic. But because she can rise above that she just makes up all these fantasies. And she's a totally delightful character."
You can read the interview, or listen to audio, by clicking here. Learn more about the musical at the theatre's Web site.
Cryer and Ford's autobiographical show, Getting Their Act Together Again, is set to open next week at 59E59 Theaters for a limited engagement. Details can be found in this previous story.
Back