Bess Evans Receives 2007 Walker Cup
May 7, 2007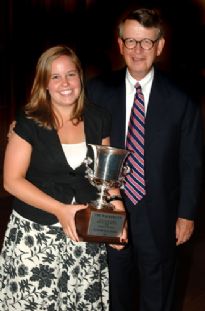 May 7, 2007, Greencastle, Ind. -

[Download Video: "Walker Cup Announcement" - 4511kb] "She has done so many things at DePauw," said President Robert G. Bottoms as he announced Elisabeth W. "Bess" Evans as the 2007 recipient of the Walker Cup. A double major in sociology and communication and a Holton Scholar and Media Fellow, Evans was honored at tonight's Academic Awards Convocation in Meharry Hall of historic East College. The Walker Cup recognizes the senior student judged to have contributed the most to the University during his or her four-year college career.
Evans' involvement in on campus activities has been broad, Dr. Bottoms noted, pointing out that she has been a leadership intern, worked for the Hartman House, and mentored first-year students, among her work to improve campus life.
Students, parents, friends and faculty members in attendance heard from Wayne Glausser, professor of English at DePauw and the recipient of the 2006-07 Exemplary Teaching Award.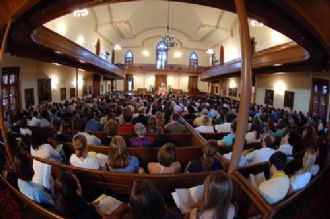 A PDF of the program with a complete listing of tonight's award winners is available here.
Thursday, May 10 is the last day of classes for the 2006-07 academic year at DePauw University. Final exams begin May 12. Karen Koning AbuZayd, commissioner-general of the United Nations Relief and Works Agency (UNRWA) and 1963 graduate of DePauw University, will deliver the address to graduates at DePauw's 168th annual commencement, Sunday, May 20, 2007 at 1 p.m. on the lawn of historic East College (weather permitting). Learn more by clicking here.
Back