Bob Steuber Racks Up Another 25 Points, Mows Over Wabash, 33-0
October 16, 1943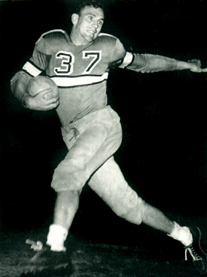 October 16, 1943, Greencastle, Ind. - DePauw University -- led by Bob Steuber, who began the season with the National Football League's Chicago Bears -- dismantled the visiting football team from Wabash College this afternoon, 33-0. Steuber, the nation's leading scorer, had another banner day. He accounted for 25 of the Tigers' points, running for 266 yards on 19 carries in the 12th battle for the Monon Bell.
Steuber, an All-American halfback at Missouri, was the first pick of the Chicago Bears in last April's NFL draft. On September 27, a day after playing in his first professional contest, the Navy ordered Steuber to report to DePauw for training as an aviation cadet.
The Tigers played Oberlin to a scoreless tie in the season opener. Since the arrival of Steuber and other Naval cadets after that game, DePauw has won three straight by a margin of 122-6.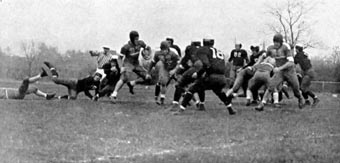 View a "Monon Memory" of the 1943 battle for the Bell and Bob Steuber's amazing season here:

[Download Video: "1943 Monon Memory" - 6910kb].
Access all Monon Memories -- video montages narrated, written and produced by Ken Owen '82 -- here, and visit the Monon Bell Web page by clicking here.
Back