Actress Halle Berry Interviews Prof. Tom Chiarella in May Esquire
May 18, 2007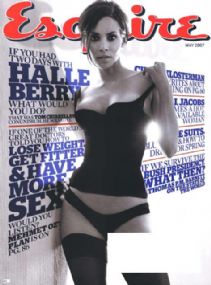 May 18, 2007, Greencastle, Ind. - Actress Halle Berry turns the tables on Tom Chiarella, fiction editor for Esquire and professor of English at DePauw University, in the magazine's May issue. The Hollywood star, tired of relentless queries about her personal life from other reporters, writes, "I decided to seek revenge preemptively on this perfect stranger and ask him all the annoying kinds of questions that I had suffered through for so many years." The resulting article, "Halle Berry's Date with a Perfect Stranger," is written by Berry and includes annotations from Chiarella.
Berry asks the writer/professor a series of questions, and recounts a shopping trip that Chiarella accompanied her on. Over the course of two days spent with the Esquire scribe, Berry writes of "having fun with a perfect stranger. A perfect stranger who I thought for sure was out to get me the day before." At a delicatessan, Berry writes, "I watched the perfect stranger finish his sandwich. On another day, he'd just be a guy in a shop, lifting the pastrami off his perfectly good rye bread like a fool. But now I knew him. Him and his girlfriend and his screwups and his pain here and there in life. He knew mine, too. But everybody thinks they do. He looked past me, out the window. 'The coast is probably clear,' he said. 'No one seems to know we're here.' I smiled. The perfect stranger was my hero. He never asked me one
dumb question, not one rhetorical question, not one question I had heard before, never invaded my personal boundaries, didn't really seem to care about my love life, and never asked me what it was like to kiss Bruce Willis. I looked at him again. I never get to see a perfect stranger like that, looking out the window, caught in his own thoughts, worried about other perfect strangers with cameras. It was kinda sweet."
After Berry has her say, Chiarella weighs in. "Halle Berry wrote this. Every word. Like all writers, she got a lot of things wrong, and she should be held responsible for the content," he writes, and follows with a point-by-point counter to the actress' account of their conversations, which included references to playwright and DePauw English professor Chris White, and actress Rae Dawn Chong's spring visit to the University.
Access the complete piece (which includes some strong language) at Esquire's Web site.
Tom Chiarella has authored the books Foley's Luck, Writing Dialogue and Thursday's Game: Notes from a Golfer with Far to Go. Learn more about him in this previous story.
Back