Jeyson Florez '07 to Study in Costa Rica Under Fulbright Grant
June 1, 2007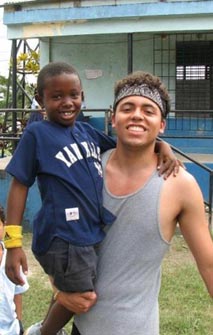 June 1, 2007, Greencastle, Ind. - Jeyson H. Florez, a May 2007 graduate of DePauw University, will spend the 2007-08 academic year researching wealth distribution and poverty in Costa Rica as a Fulbright Scholar. Flores is the third member of DePauw's Class of 2007 to learn this spring he has received an international graduate study and research grant through the Fulbright U.S. Student Program competition. Fulbright student grants aim to increase mutual understanding among nations through educational and cultural exchange while serving as a catalyst for long-term leadership development.
A Posse scholar from Chicago who majored in economics, Florez is the third DePauw senior to receive a Fulbright Award this spring. Nishita Trisal will spend a year in Indonesia teaching English to young people. Michael R. Roberts will spend a year in Berlin, Germany teaching English language and literature and studying postmodern theatre and theatrical adaptation theory.
"The act of washing toilets, a task most find disgusting and unbearable, introduced me to the concepts of social class and economic disparities," Florez wrote in his Fulbright application. "I was ten years old and had never

thought twice about my mother's source of income. She was a cleaning lady, a job common for women in my family and to immigrants in general, thus I was ignorant to my mother's 'economic status.' It was not until I had a day off school and accompanied my mother to work that I experienced a revelation. The owners of the house had left my mom $40 dollars for her day's work. After seeing the difficulty my mother's job entailed and knowing that the day's pay would not go very far ... It became obvious to me that the hardest workers are not always rewarded financially, and I started to question what could be done to correct this problem."
As a student at DePauw, Florez spent two Januarys (2006 & 2007) on a Winter Term in Service in Central America. In 2006, in San Antonio de Guacimal, Costa Rica, he was part of a group that labored four hours to pick coffee beans. "As a team, we filled three buckets, enough to receive three dollars pay. The going rate for a bucket of
coffee was one U.S. dollar, and we were told that some women in the community would pick up to twenty buckets in a day. My mind struggled to understand the grueling pain that went along with such work and the lack of economic results it produced. I knew that coffee picking had been a practice of the community for decades, but I could not fathom how this tradition could continue if it did not provide sufficient funds for workers to feed their families."
In his application essay, Florez stated, "In both the case of my mother's job and of the coffee pickers of San Antonio, I learned that becoming economically stable and independent is a constant struggle for those with limited resources. These two experiences opened my eyes to the power of self sufficiency. There is a sense of pride that comes with providing for yourself and your family. However, there are so many obstacles that prevent many from obtaining this pride."
Florez's work will combine economic analysis and anthropological interviews. "By examining the country through an economic lens and comparing it to the actual stories of its people, I believe I can determine what issues must be addressed so that Costa Rica's poor citizens, specifically those in San Antonio, will prosper," he writes. "Working alongside Ecoteach, a non-profit organization
connected to communities throughout the country promoting sustainable development, I look forward to gaining insight on not only the socio-economic spectrum of Costa Rica's population, but also how to address modern economic problems while maintaining cultural identity of self-sufficient workers of the land in place."
The recent graduate's plans include pursuing a a master's degree in economic development and working for a non-profit organization sponsoring micro-credit opportunities in Latin America. Through his Fulbright experience, Florez declares, "I intend on seeing if long-standing cultural practices at the local level can thrive amid the reorganization of the modern Costa Rican economy." His project will focus on "wealth distribution, the growing gap between the rich and poor, and the best way to address poverty in Costa Rica. I want to examine what economic indicators imply about the country and compare that data to the personal experiences of the citizens of San Antonio de Guacimal. Using San Antonio as a case study, my project will determine whether decision making at the national level such as tax structure reform or local autonomy allowing communities to determine their own strategies for economic development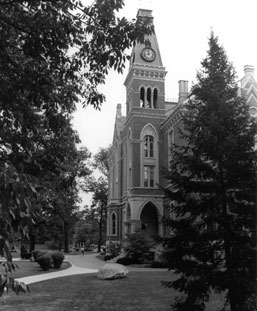 is the best way to combat poverty. My goal is to discover what the aspirations of the people of San Antonio are and find out if eco-tourism can accomplish the goal of balancing modernization and the preservation of culture. I want to know what role the Costa Rican government plays in making sure no one is forgotten as the country continues to develop, how globalization and free trade agreements affect the economic development of poor communities, and how American and foreign presence help and hurt the country's poor simultaneously."
Florez adds, "I recall a conversation I had with Rojelio, one of the community leaders in San Antonio. He told me 'Somos pobres, lo unico que tenemos es nuetra tierra y nuetra familias!' ('We are poor, the only thing we have is our land and our family!'). Rojelio was acknowledging his lack of economic resources, while highlighting the riches he sees in his family and land. I am interested to know if this is a common belief in the town. Through conversations with village residents in which I learn their history, I intend on seeing how changes in governmental policy and other factors have affected their way of life. Rojelio told me that his family once lived a very prosperous life in his community. I am curious to see what he meant by 'prosperous,' unveiling what has changed in the community as the country has 'modernized.'"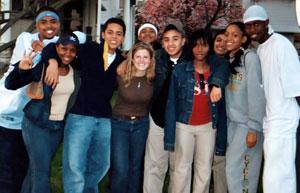 "I'm delighted that Jeyson was awarded a Fulbright this year, continuing DePauw's strong history of students earning this prestigious award," states Michele T. Villinski, associate professor of economics and management at the University. "As I noted in my letter supporting his project, Jeyson's application poses intriguing questions about possible disparities between national, regional, and local effects of international globalization that may be masked by national statistics. His proposed project will allow him to take economics learning and research beyond the classroom, to augment economic methods with anthropological ones, to confront economic assumptions, and to live the reality that models purport to reflect." (above right: Florez with members of his Posse)
Villinski adds, "In our conversations while he was refining his project idea, it became clear to me that Jeyson has the persistence, determination, and the connections to obtain local perspectives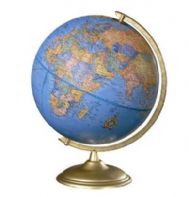 on these inherently global issues. A Winter Term trip last year provided him with first-hand experience in some of the towns he will work in during his Fulbright year and ties to a local non-profit, Ecoteach, that will facilitate his fieldwork and his acceptance in the community."
"Jeyson is an exceptional student with an incredible amount of drive and perseverance," adds Angela N. Castañeda, assistant professor of anthropology. "His natural leadership qualities helped foster a community of learning in my classroom, and his independent research objectives prove to be important issues that link local and global communities."
"Jeyson will engage community members in a constructive and meaningful dialogue about what economic development means at the grassroots level," says David Gellman (pictured at right), associate professor of history and DePauw's Fulbright Program Adviser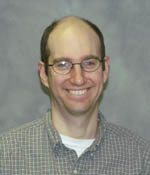 for the past four application cycles. "He brings a superb set of qualification to his project. Jeyson's training in economics and anthropology, his thorough knowledge of the host country, and his determination to give back to others, both in Costa Rica and the U.S. combine to make him the embodiment of the Fulbright spirit."
The Institute of International Education (IIE), in cooperation with the U.S. Department of State and the J. William Fulbright Foreign Scholarship Board, administers the Fulbright competition, which has provided future American leaders with an unparalleled opportunity to study, conduct research and teach in other nations for six decades.
The U.S. Student Program awards approximately 1,100 grants annually to American scholars and professionals and operates in more than 130 countries worldwide. Fulbright full grants generally provide funding for round-trip travel, maintenance for one academic year,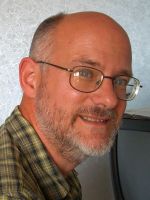 health and accident insurance and full or partial tuition. Since its inception in 1946, the Fulbright Program has provided more than 279,500 participants worldwide with the opportunity to observe each others' political, economic and cultural institutions, exchange ideas and embark on joint ventures of importance to the general welfare of the world's inhabitants. Learn more by clicking here.
Douglas E. Harms (seen at left), professor of computer science at DePauw University, assumes the role of Fulbright Adviser for the coming academic year. The recipient of a Fulbright Award for the 2004-05 academic year, Dr. Harms taught several undergraduate and graduate courses in the department of computing at the University of Rousse in Bulgaria. He can be reached at dharms@depauw.edu.
Back