John Porter '02 to Study Japan's Urban Slums With 2007-08 Fulbright Award
August 14, 2007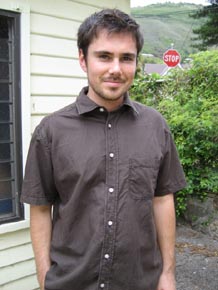 August 14, 2007, Greencastle, Ind. - John P. Porter, a 2002 graduate of DePauw University, has been awarded a Fulbright U.S. Student scholarship in modern history. The grant will allow Porter -- who is currently working on his doctoral dissertation in history at University of Hawaii, Manoa -- to travel to Osaka, Japan for the 2007-08 academic year, where he'll serve as a special researcher ("tokubetsu kenkyūin") at the Osaka City University's Urban Research Plaza.
The U.S. Student Program is presented by the J. William Fulbright Foreign Scholarship Board. Porter is one of more than 1,300 U.S. citizens who will travel abroad through the Program in the next 12 months.
"My research is focused on urban slums in the city of Osaka during the late nineteenth and early twentieth centuries," says Porter, who majored in East Asian studies at DePauw and earned his master's M.A. in Japanese studies from the University of California - Santa Barbara in 2005. "This is a wonderful opportunity, and

I'm both honored and thrilled as I prepare for the year-long experience it will provide."
Three 2007 graduates of DePauw also received Fulbright Awards for the new academic year. Nishita Trisal will spend a year in Indonesia teaching English to young people. Michael R. Roberts will spend a year in Berlin, Germany teaching English language and literature and studying postmodern theatre and theatrical adaptation theory. Jeyson H. Florez will research wealth distribution and poverty in Costa Rica.
The Fulbright Program, America's flagship international educational exchange program, is sponsored by the United States Department of State, Bureau of Educational and Cultural Affairs. Since its establishment in 1946 under legislation introduced by the late Senator J. William Fulbright of Arkansas, the Fulbright Program has provided approximately 279,500 people -- 105,400 Americans who have studied, taught or researched abroad and
174,100 students, scholars and teachers from other countries who have engaged in similar activities in the United States -- with the opportunity to observe each others' political, economic, educational and cultural institutions, to exchange ideas and to embark on joint ventures of importance to the general welfare of the world's inhabitants. The program operates in over 150 countries worldwide.
Recipients of Fulbright awards are selected on the basis of academic or professional achievement, as well as demonstrated leadership potential in their fields.
Fulbright recipients are among over 30,000 individuals participating in U.S. Department of State exchange programs each year. For more than sixty years, the Bureau of Educational and Cultural Affairs has supported programs that seek to promote mutual understanding and respect between the people of the United States and the people of other countries.
For further information, visit the Fulbright Program's Web page.
Back