Lisa Gladson '81 Offers Economic Perspective to St. Louis Post-Dispatch
April 17, 2008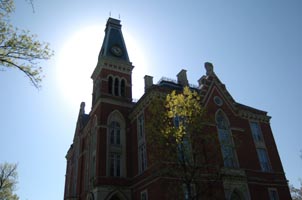 April 17, 2008, Greencastle, Ind. - "How long economic growth in the U.S. and St. Louis will remain weak is an open question," write Lisa (Raible) Gladson and Jack Strauss in the
St. Louis Post-Dispatch
. Gladson, a 1981 graduate of DePauw University, is an instructor of economics at St. Louis University, while Strauss is the Simon Professor of Economics at the same institution. They offer an article headlined, "A recession? How severe, and at what cost?"
"The excessive past borrowing implies that recovery will be slow, but, again because our region borrowed less, the balance sheets of households are healthier,

and the region is likely to rebound earlier," the professors write. They note, "The Chinese and OPEC nations have been financing large portions of our government deficit for years, and in return we have large trade deficits. The stimulus package implies more borrowing, debt and trade deficits, adding to the $3 trillion that we owe to foreigners. If the economy continues to sour, credit card troubles and automobile sales may severely dampen retail sales. For now, however, the crisis is primarily a housing and financial one, implying that St. Louis is less likely to be hit as hard as other regions."
Read the complete text at the newspaper's Web site.
Back