Debate Team Wins 'Loyola Rambler' Tournament
December 3, 2007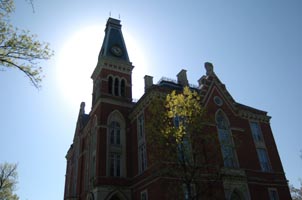 December 3, 2007, Greencastle, Ind. - DePauw University's debate team of Avery Archer and Christine Walker won the "Loyola Rambler" debate tournament, which took place over the weekend at Loyola University in Chicago. Archer and Walker, both first-year students, were the top seed going into elimination rounds. They defeated a team from Hillsdale College in the final round on a 3-0 decision.
Other schools which participated in the event were Marquette, Wheaton, Loyola, Wisconsin-Osh Kosh, Carthage, and Northern Illinois.
As it happened, another team of DePauw debaters -- Brittney Belcher and Yijie Wang -- had to debate the Archer/Walker duo in the semi-final round, where they were defeated. A third DePauw debate duo of Keelin Kelly and Michael Lutz advanced to the open quarterfinal round. The competition was adjudicated by Tyler Kennedy, a 2006 DePauw graduate.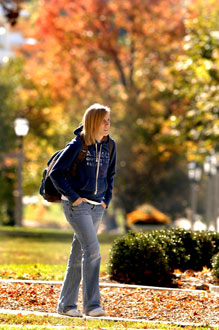 In addition to winning the team tournament, five individual DePauw debaters placed in the top ten in an event which featured more than 70 debaters. They were:
Christine Walker - 3rd Place
Avery Archer - 4th
Brittney Belcher - 6th
Michael Lutz - 7th
Kevin Milne - 9th
The Loyola tournament was the last of the semester. The debate team's season continues next semester with tournaments at Wheaton College, Webster University, and the national tournament at the United States Air Force Academy in Colorado Springs.
For information about the debate program, which is open to all students, contact Geoff Klinger '88, assistant professor of communication and director of forensics at klinger@depauw.edu or visit the team's Web page.
Back