James Beard Foundation Award to Barbara Kingsolver '77
June 10, 2008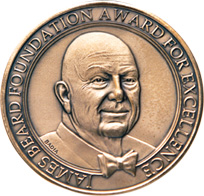 June 10, 2008, Greencastle, Ind. - "Barbara Kingsolver's account of eating local food, Animal, Vegetable, Miracle: A Year of Food Life, received an award for general food writing," Sunday from the James Beard Foundation, reports the Associated Press today. "The James Beard awards are known as the Oscars of the food world," writes J.M. Hirsch. "They honor those who follow in the footsteps of Beard, considered the dean of American cooking when he died in 1985."
Read more at the Web site of New York's Ithaca Journal.
Kingsolver, a 1977 graduate of DePauw University, recently received a gold 2008 Nautilus Book Award for Animal, Vegetable, Miracle, which she wrote with her husband, Steven L. Hopp, and their daughter, Camille Kingsolver.
Barbara Kingsolver received the National Humanities Medal in 2000. Her bestselling novels include The Bean Trees, Animal Dreams, The Poisonwood Bible, and Small Wonder. She delivered the commencement address at Duke University on May 11, offering graduates advice on "How to be Hopeful."
In a PBS interview, Kingsolver said that at DePauw, "I found myself surrounded by peers who loved the same things that I did, people who loved ideas and books. I started reading purposefully things that I thought would teach me about the world."
Access her 1994 commencement address at DePauw in this previous story.
Back