Class of 1986's 551 Graduates Hear Two Sharp Messages
May 24, 1986
May 24, 1986, Greencastle, Ind. - The 518 young scholars who received undergraduate diplomas this afternoon on East College lawn were wise "in choosing the route of liberal arts and DePauw in offering it," U.S. Congressman Philip R. Sharp said. A member of the University's Class of 1964, Rep. Sharp shared the lectern with his wife, Marilyn "Kay-Kay" Augburn Sharp '64.
An additional 33 students earned master of arts degrees in teaching. Departing President Richard F. Rosser presided over the event, which took place outdoors and without rain, which, as Dr. Rosser noted, made him a perfect 10-for-10 in his decade of leading the University.
Congressman Sharp told the new graduates that a degree "does not actually signal that any of us is 'an educated person.' There is no such steady state for an individual, but I trust it does reflect that your horizons have been broadened, your capacity to reason enhanced, and that you are better able to carry forward your own education on your own terms."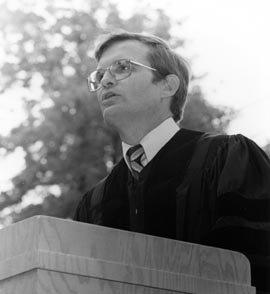 Phil Sharp singled out the late Professor Raymond Pence as the figure who most influenced his years at DePauw. "Over and over he stressed that education was a lifetime activity. To get us to take a longer view, he used to pronounce brutally, 'If you think these are the best days of your lives, you might as well drop dead the minute they hand you that degree.'" Dr. Pence, noted the congressman, worked "to get us to value our own work and recognize our own ability to improve" and would compliment students' best compositions by saying they were "too good not to be better."
Marilyn Sharp talked of how sexist attitudes prevailed at DePauw and other campuses during her college years; that men were expected to become doctors, lawyers and businessmen, while women were expected to fulfill the role of wife. The author of three novels, Sharp stated, "You may have to fight for your right to dream and to try and make your dreams come true, because society for the most part doesn't consider dreaming a practical matter.
Writers have been complaining of that forever."
She declared, "To you women I want to say, don't ever let anyone make you less than what you want to be, whatever that is. By accepting conventional standards, if they don't fit you, go find your own standards. To you men I would say the same thing. And one other thing -- if and when you do get married, please do remember that she has dreams of her own. And helping you be what you want to be probably isn't one of them."
Senior Tony de Nicola, a summa cum laude graduate who is this year's recipient of the Walker Cup, addressed his class today. "DePauw graduates have made important contributions to society and succeeded in their careers," noted de Nicola, a member of Phi Beta Kappa and quarterback of the football team. "Successful careers, however, do not necessarily make strong, happy families. I believe that the most important contribution that all of us can make to society will come in our own family. We are the next generation of spouses and parents. It is our responsibility to recognize the importance of strong family relationships. It is not enough to use our DePauw education to be leaders in professional arenas. We must also take the initiative in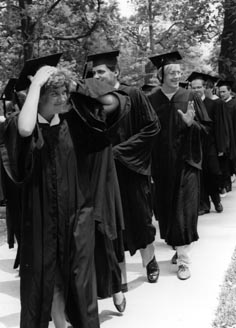 shaping and molding our society into a better world. As we move into the next stages of our lives, that is our challenge."
At today's ceremony, retiring faculty member Clinton Gass was honored for his 32 years of teaching at DePauw.
Honorary degrees were awarded today to the Sharps, as well as: Curtis V. Clark '52, a dentist and president and CEO of the Indianapolis Symphony Orchestra; James Carter Van Horne '57, Giannini Professor of Finance in the Graduate School of Business of Stanford University; Frances Wylie Condit '32, for a lifetime commitment to supporting scholarship programs at DePauw, Miami University (Ohio), Carle Hospital and the Mayo Foundation; and Brandt F. Steele, a researcher and pioneer in the study of child neglect and abuse.
Yesterday's New York Times described how Phil and Marilyn Sharp composed their joint address. Read more in this story.
Back