"A Great Experience," Says First-Year Student of DePauw in Ecuador Summer Program
August 27, 2008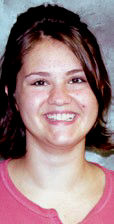 August 27, 2008, Greencastle, Ind. - "You can read about how Ecuador is, but experiencing it is much different," says Jenna Buehler, a DePauw University freshman. She was among fifteen first-year students who participated last month in the second DePauw in Ecuador Summer Program, and her experience is recounted in today's edition of Indiana's Carroll County Comet.
The DePauw in Ecuador Summer Program. Created as the result of a major gift by Steven L. Trulaske '79 and his wife, Michelle. It provides opportunities for students to study in both Greencastle and Ecuador before the start of their first year in college. The students were chosen from approximately eighty applicants for their leadership and ability to speak Spanish. They three weeks engaging in studies, activities and community service projects in Greencastle before heading to South America for two weeks, where they lived and worked in the Tierra Nueva Foundation in Quito, Ecuador. (at right: DePauw's first-year students at the equator, from which Ecuador takes its name; photo by Carolyn Latta '12)
"We prepared for the trip by teaching children in a church camp in Indiana to speak Spanish," Buehler tells her hometown newspaper. "For five weeks we were only allowed to speak Spanish.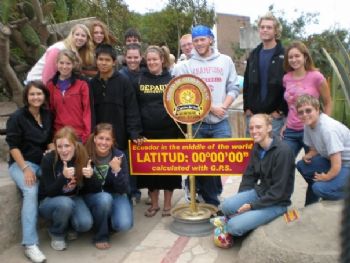 Being misunderstood was awful. But we were not allowed, by contract, to speak English during that time. You really learn how much of what you say is unimportant. I wasn't conjugating verbs anymore -- I had to survive -- and it just came out!"
Debbie Lowe writes, "The program required volunteers to spend one night with a local family, which meant eating indigenous food. In Buehler's case, that food was guinea pig, which is considered a delicacy in Ecuador."
Now in Greencastle beginning her first year of college studies, Buehler says her summer learning opportunity "was a great experience. It made me appreciate what I had growing up here in the United States. This really showed me the difference in reading about something and experiencing it." (at left: Buehler with an Ecuadoran family)
The story notes, "Buehler will major in communication and political science at DePauw. She is a member of media fellows that affords her advance opportunities to work in media outlets. She will be an on-air personality on the campus radio station, WGRE, Sundays from 6 to 8 a.m."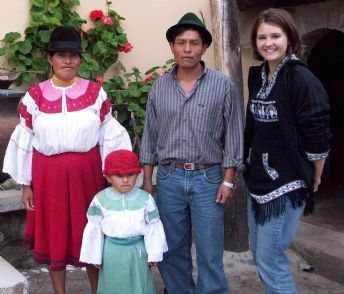 Access the complete article, headlined "South American adventure once in a lifetime for recent graduate," at the Comet's Web site.
Learn more about the DePauw in Ecuador Summer Program and the Steve and Michelle Trulaske International Scholarship Fund in this news item from July 8.
DePauw was among the "Top Producers of Fulbright Awards for U.S. Students, 2007-08" according to a chart published in the October 26, 2007 edition of the Chronicle of Higher Education. The University continues to be one of the top colleges in the United States for the percentage of students who study abroad, according to Open Doors 2007, a report by the Institute of International Education.
Back