Weeklong Celebration, 'Uncommon Success: DePauw in the World,' to Accompany Inauguration of President Casey
September 1, 2008
Also: Inauguration Web Page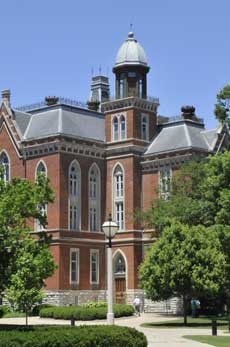 September 1, 2008, Greencastle, Ind. - The week of October 6-11 will be a time to celebrate the intellectual life of DePauw and the University's 172 years of tradition and excellence in a series of events which will mark the inauguration of President Brian W. Casey. As previously announced, DePauw's 19th president will be installed in a 4 p.m. ceremony on Friday, October 10, in the Holton Quad. Today, a schedule of other activities is being unveiled for students, alumni, faculty, staff and distinguished guests to join in the historic celebration, "Uncommon Success: DePauw in the World."
A calendar of those activities and events which have been confirmed thus far can be found at this newly-created Web page. More items will be added as details are finalized.
"Even though the new president is a focal point of any inaugural commemoration, Dr. Casey has insisted that this be a week in which we honor and celebrate all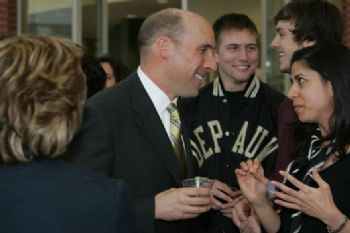 things DePauw," says Elizabeth A. "Betsy" (Koenig) Demmings '75, chair of the inaugural steering committee. "There is literally something for everyone to enjoy, and we are very excited about a week which will welcome our new leader while honoring the long traditions that make the DePauw experience so distinctive among America's top liberal arts colleges."
The October 10 inauguration of President Casey can be viewed anywhere in the world via a webcast, which will be presented live and archived for later viewing. Details can be found in this previous story.
Dr. Casey, who took office on July 1, addressed DePauw's incoming students at the August 23
opening convocation. He told the new undergraduates,

[Download Video: "The Opportunity Ahead" - 716kb] "You were smart to come to a small, liberal arts college. Graduates of these institutions tend to take on the world and they take it on boldly. So, do not fret about how exact your plans need to be over the next four years. Think instead about how rich you can make these next four years."
Read more in this account, which includes an MP3 file of the new president's full address.
Back