Inauguration of President Casey Can Be Viewed Worldwide Via Webcast
August 22, 2008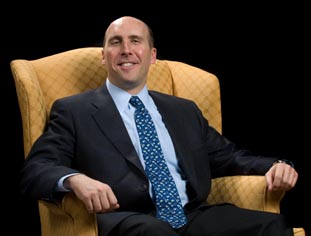 August 22, 2008, Greencastle, Ind. - Wherever they are in the world, members of the DePauw community will be able to see and hear the October 10 inauguration of the University's nineteenth president, Brian W. Casey. The Indiana Higher Education Telecommunications System (IHETS) consortium will partner with DePauw to provide a video and audio webcast of the complete program, which will begin at 4 p.m. EST. The feed will be accessible via this link and an archived version will be available after the event.
"This will be a day to celebrate the installation of DePauw's new president as well as the University's 171 years of history, and we're thrilled to be able to make this available via the Web," says Ken Owen '82, executive director of media relations. "Our thanks to Dennis A. Trinkle '91, executive director of IHETS, and his very capable colleagues for making the webcast possible."
The theme of President Casey's inaugural
is "Uncommon Success: DePauw in the World." The program will feature his remarks, as well as a speech by Robert J. Zimmer, president of the University of Chicago. (at right: Dr. Casey greets a member of the DePauw community at the ice cream social held on his first day in office)
Brian Casey assumed the presidency of DePauw on July 1. His appointment was announced in February after a nine-month international search for the University's first new leader in 22 years. Dr. Casey comes to Greencastle from Harvard University, where he was associate dean for academic affairs in the faculty of arts and sciences. He succeeds Robert G. Bottoms, who, as president emeritus, becomes director of the Janet Prindle Institute for Ethics.
The University and IHETS have partnered five times in the past to present webcasts of events, including May's 119th commencement, Mikhail Gorbachev's 2005 Ubben Lecture and this February's news conference introducing Dr. Casey as DePauw's new president.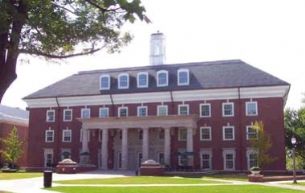 Established in 1967, IHETS is a consortium of higher education institutions in Indiana composed of seven major public colleges and universities, 31 independent colleges and several affiliate members including state government, K-12 education, public libraries, and public broadcast stations. IHETS' mission is to advance the education, research and public service activities of its member institutions and affiliates by offering and coordinating technology and e-learning services.
Learn more about the inauguration of President Casey in this recent story and access a recent newspaper article on DePauw's nineteenth president.
Back