Patriotism is "A Willingness to Sacrifice," Barbara Kingsolver '77 Says in Kansas Speech
September 30, 2008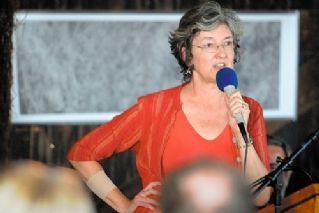 September 30, 2008, Greencastle, Ind. - "As the standing ovation that capped the couple's presentation subsided, one voice called out, 'Kingsolver for president,'" reports Kansas' Salina Journal of Saturday's speech by Barbara Kingsolver and her husband, Steven Hopp, at the Land Institute's 30th annual Prairie Festival. The couple co-wrote Animal, Vegetable, Miracle: A Year of Food Life. Barbara Kingsolver, a bestselling author, is a 1977 graduate of DePauw University. (photo at left courtesy: Rodrick Reidsma/Salina Journal)
The article by Duane Schrag begins, "In the months after terrorists brought down the twin towers in Manhattan, President Bush urged the deeply unsettled nation to show their patriotism ... by shopping. That's not the way Americans have always reacted to crisis, writer Barbara Kingsolver told the audience packed into -- and around -- the red barn at the Land Institute. In 1942, Americans rallied around their country by sharply cutting back on both what they used and what they wasted. Citizens across the country were urged to grow their own food."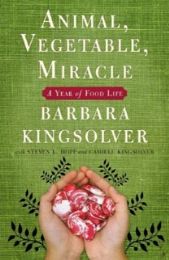 Kingsolver stated, "My country, my America, defined patriotism as a willingness to sacrifice. If we could do that once, we could do that again. We could take the American flag down from the outlet mall and plant it in the Victory Garden."
Access the story at the newspaper's Web site.
Animal, Vegetable, Miracle received an award from the James Beard Foundation as well as a gold Nautilus Book Award. Barbara Kingsolver's other works include The Poisonwood Bible, The Bean Trees, Animal Dreams and Small Wonder. She received the National Humanities Medal in 2000.
At DePauw, Kingsolver told PBS, "I found myself surrounded by peers who loved the same things that I did, people who loved ideas and books. I started reading purposefully things that I thought would teach me about the world."
In 1994, Barbara Kingsolver delivered the commencement address at DePauw, and was also awarded an honorary degree during the ceremony. A summary of her speech can be found in this previous story or listen to an MP3 of the complete address:

[Download Audio: "Barbara Kingsolver's 1994 Commencement Speech" - 10,044kb].
Back