Prindle Institute Nets 'Outstanding Indiana Architecture Award'
October 29, 2008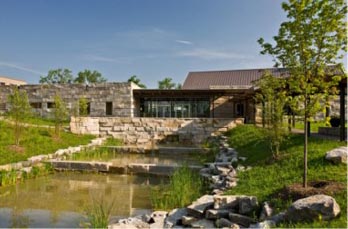 October 29, 2008, Greencastle, Ind. - The Indiana chapter of the American Institute of Architects (AIA Indiana) has presented DePauw's Janet Prindle Institute for Ethics the 2008 "Outstanding Indiana Architecture Award." The University and CSO Architects were honored at the AIA Indiana 2008 Annual Design Awards.
The Prindle Institute, which is located in the DePauw Nature Park, recently became the first building in Indiana to earn a LEED New Construction Gold 2.2 rating for energy efficiency and environmental design from the U.S. Green Building Council. "This sustainably designed building resulted in the Prindle Institute realizing its mission to provide a contemplative,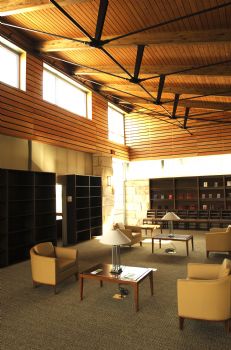 responsible, and inspiring setting in which to reflect deeply on ethical issues of our time," notes a description of the project at the AIA's Web site.
"From the engagement of the building on the site to the detail and innovative use of exterior materials, it blended seamlessly with the natural setting," noted one of the awards' jurors. Another noted, "The project was well presented and showed well resolved and explicit connections between the architecture and the landscape."
AIA Indiana is a non-profit professional association representing the interests of and providing services to nearly 700 architects and affiliated design professionals.
Learn more about the award, and view high resolution images of the Prindle Institute, by clicking here.
Created through a gift to DePauw by Janet W. Prindle, a 1958 graduate of the University, the Janet Prindle Institute for Ethics was dedicated on October 26, 2007.
On September 15, DePauw President Brian W. Casey signed the American College & University Presidents Climate Commitment,
joining 575 college and university presidents and chancellors across America who are pledging to neutralize the greenhouse gas emissions of their institutions and make environmental awareness a key component of campus life. (at left: former British Prime Minister Tony Blair visits with DePauw students and alumni at the Prindle Institute; March 3, 2008)
On August 21, the National Wildlife Federation honored DePauw University for its efforts to promote sustainability in its report, "Campus Environment 2008: A National Report Card on Sustainability in Higher Education."
The Institute was recently featured in Environmental Design + Construction magazine.
Learn more about DePauw's sustainability efforts here.
Back