Shamrock Builders, Co-Owned by Two 1981 Graduates, Sees "Great" Business in Tough Economy
December 30, 2008
December 30, 2008, Greencastle, Ind. — "Our business is great," says Greg O'Herren, who co-owns Fishers, Indiana-based Shamrock Builders with George Geiger. The business is featured in the Indianapolis Star, which notes, "Geiger and O'Herren, both 49, are cousins who went to DePauw University and bought Shamrock from Roger O'Herren 15 years ago." (pictured l-r, Geiger and O'Herren)
"This next year's going to be our best year, I believe," says Greg O'Herren, who, like Geiger, graduated from DePauw in 1981. Their company has between "$12 million and $13 million worth of construction projects set to break ground," according to the Star.
"As commercial developers hunker down to face the worst real estate market in

decades, Shamrock Builders of Fishers is more than surviving by catering to small businesses looking for prime office space," writes Jeff Swiatek. The firm "has kept busy in slack times by building offices for dentists and other medical practices, law offices, insurance agencies and other small businesses that are not only holding their own in the recession but growing. Using the advertising catchphrase 'offices that feel like home,' Shamrock has found its niche in building one-story office buildings with no common areas that offer parking at the front door and are in highly visible or easy-to-drive-to sites. That's appealing to many small businesses that can't afford leased space in prime office buildings or don't want to be on upper floors that are difficult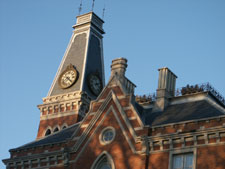 for their customers to find or handle after undergoing surgery or dental work. Many small-business owners also prefer owning their buildings, especially now, with stock markets in turmoil and prime real estate seen as a reliable place to park your money."
You'll find the complete story, "Shamrock makes its own luck," at IndyStar.com.
Back