Ed Simcox Jr. '93 and Ali Sales '03 Among Indy's 'Forty Under 40'
February 3, 2009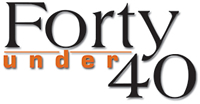 February 3, 2009, Greencastle, Ind. — Two graduates of DePauw University -- Ali Sales '03, president and co-founder of Compendium Blogware, and Ed Simcox Jr. '93, director of information services for Clarian Health Partners Inc. -- are among the Indianapolis Business Journal's "Forty Under 40." Sales, Simcox and 38 others are featured as "noteworthy professionals who are instrumental to the city's future."
IBJ notes that Sales founded her company with Chris Baggott, whom she met when they worked together at ExactTarget. Sales was then fresh out of DePauw as a Gov. Bob Orr Entrepreneurial Fellow. "She enjoyed seeing the company grow rapidly from a few dozen employees to several hundred," states the publication's profile.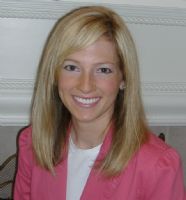 "I can't say enough about what a great experience it was to work at ExactTarget, watching a company handle such fast growth and nail it," says Sales, who was an English writing major and Management Fellow. "I had a lot of responsibility early in my career there and lots of opportunities."
Founded two years ago, Compendium Blogware now has more than 250 clients and 30 employees. The firm "provides blogging software that helps companies get found online, specifically through search engines."
The profile also points out that "Sales also has written a novel, although it is unpublished ... [She] earned a bachelor's degree in English writing from DePauw University, where she is involved with alumni activities."
In his role, Simcox "is responsible for technology and business-improvement projects for Clarian Health Partners, the consolidated health care organization that comprises

Methodist Hospital, Indiana University Hospital and Riley Hospital for Children. Simcox himself is a consolidation of technophile, lawyer, business owner, drummer and photographer.
"My teams are responsible for the behind-the-scenes systems -- e-mail, management of computers, the internal help desk software platform," he says. "We have about 25,000 computer users, 16,000 computers, 5,000 printers and we are growing. We are involved with Clarianwide operational improvement."
The Business Journal adds, "Simcox recently led a system-wide effort to replace and automate the management of 12,000 computers, as well as create IT infrastructure improvements that saved Clarian almost $5 million ... Before joining Clarian, Simcox sold his Indianapolis-based technology consulting company, Saurian Technologies, which focused on Internet-based government and commercial information systems for clients in 12 states ... An Indianapolis native, Simcox graduated from North Central High School, earned a bachelor's degree in political science from DePauw University and a law degree from Indiana University School of Law-Indianapolis."
The text also details his volunteer activities (including chairing the Indianapolis Private Industry Council, which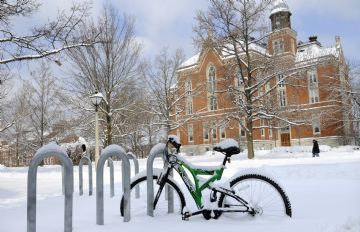 coordinates funding and job training for local residents) and notes that he plays in a band called the Fancy Lizards.
This year marks the 17th anniversary of Indianapolis Business Journal's "Forty under 40" award that recognizes 40 local business professionals and leaders under the age of 40 who have demonstrated proven success, leadership in the community, initiative and commitment in pursuing their careers. The core criterion for selection centers on noteworthy achievements and whether the candidate is likely to continue their pursuits in the future. The 40 individuals will be honored tonight at the Skyline Club in Indianapolis at an awards ceremony.
Visit the IBJ online (the "Forty Under 40" features are available only to paid subscribers).
Through previous stories, learn more about Ed Simcox and Ali Sales.

Back