Golfweek Features FOX Anchor & Former Tiger Player Bret Baier '92
July 10, 2009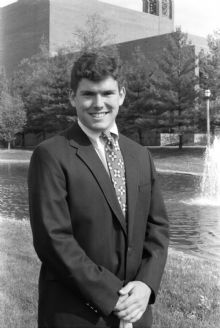 July 10, 2009, Greencastle, Ind. — "When you're the anchor of cable television's top-rated news show, you never stop scrambling to stay ahead of the competition -- even if you're chasing pars rather than stories," begins a Golfweek feature on Bret Baier. The anchor of FOX News Channel's Special Report with Bret Baier and 1992 graduate of DePauw University "always had a tidy short game, dating to his days at Marist School in Atlanta, where he shot 71 to win the regional title and lead his team to the AAA state championship in 1988, and later at DePauw University, where he lettered on four teams that advanced to the NCAA Division III Championship." (at left: Baier as a DePauw student; below: behind the anchor desk)
Martin Kaufmann writes, "Though he fought a nagging hook, he arrived at DePauw with a fearless, Seve-esque flair -- the sort who "would do or try anything," says former teammate Rob McCormick ['92], now the general manager at Crawfordsville (Ind.) Country Club.
Baier jokes, "My coach at DePauw (Ted Katula) used to (say), 'Baiersy, I can't go out with you unless I have a flask of vodka.'"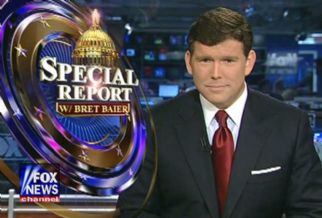 Jon Stutz, a 1991 DePauw graduate who was another of Baier's Tiger teammates, recalls, "His game matched his personality. He had a way of making something out of nothing. He was a scrambler, a grinder. He never seemed to be too taken aback by a bad shot. He just focused on how to make something out of the next shot."
The article charts Baier's rise from small market television to the cable network. It notes, "Shortly after becoming FOX's Pentagon correspondent, he followed [Secretary of State Donald] Rumsfeld to Doha, Qatar. With some unexpected down time, Baier and two counterparts, the late Jack McWethy [DePauw '69] of ABC and Jim Miklaszewski of NBC, retreated to Doha Golf Club. On the eighth hole, they were paged to a Rumsfeld news briefing, and Baier, the rookie, insisted they return, against the advice of the more seasoned correspondents. When Rumsfeld's briefing turned out to be 'a total snoozer,' Baier recalls McWethy growling in his ear, 'We could have been on 13 now.'"
A member of Congressional Country Club, Baier has a 3.3 handicap.
He's keeping it in the fairway at work, too, reports Golfweek. "FOX News holds a lopsided ratings advantage over competitors, and ratings for Special Report have risen 39 percent since the start of the year, making Tiger Woods' 15-stroke victory at the 2000 U.S. Open seem like a nail-biter by comparison ... Baier's weeknight audience of nearly 2 million viewers is more than twice that of second-place CNN's Situation Room, with fewer than 900,000. And though some have tried to pigeonhole FOX News as a refuge for conservatives, self-described Democrats (33 percent) and independents (22 percent) combine to make up more than half of the channel's viewers, according to the Pew Research Center."
Access the full story at Golfweek's Web site.
Bret Baier was also featured in Monday's Atlanta Journal-Constitution. Read more in this article.
Back