Steve Sanger '68 to Receive Woodrow Wilson Award for Public Service
July 14, 2009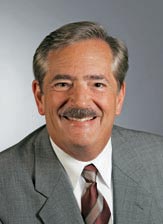 July 14, 2009, Greencastle, Ind. — "The Woodrow Wilson International Center for Scholars of the Smithsonian Institution will present the Woodrow Wilson Award for Public Service to Stephen W. Sanger" at a December 2 dinner, reports Twin Cities Business magazine. Sanger, a 1968 graduate of DePauw University, is past chairman and CEO of General Mills, Inc.
"The Woodrow Wilson Award for Public Service is given to individuals who have served with distinction in public life and have shown a special commitment to seeking out informed opinions and thoughtful views," according to the Wilson Center's Web site. "Recipients of this award share Woodrow Wilson's steadfast belief in public discourse, scholarship, and the extension of the benefits of knowledge in the United States and around the world. Rather than basing policies and ideas on political or professional expediency, these leaders devote themselves to examining the historical background and long-term implications of important public policy issues. They encourage the free and open exchange of ideas that is the bedrock of our nation's foundation."
Previous recipients of the award include Dr. Henry A. Kissinger, General Colin Powell, Andrew Lloyd Webber, Senator John McCain, Barbara Walters, Paul Volcker, Andrew Young and Senator Dianne Feinstein.
Access the item by clicking here.
"When I think back about what my life has been since then, it's just remarkable to me how many of the things that had a profound, lasting effect on my life, in a positive way, all started during that four-year period when I was at DePauw," Steve Sanger said in 2001. He received an honorary doctoral degree from DePauw in 2004 (seen above right).
Back