Mark Rolfing '71 Launches TV's Global Golf Adventure, Recalls DePauw Roommate
March 26, 2010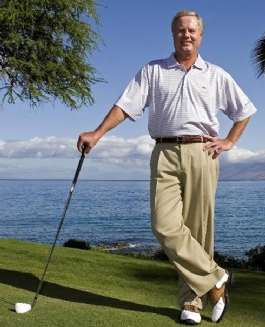 March 26, 2010, Greencastle, Ind. — "Mark Rolfing is going global," begins a USA Today feature on the 1971 DePauw University graduate. "After 14 years of highlighting the 50th state to join the Union with his 30-minute, magazine-format Golf Hawaii that aired on the Golf Channel and ESPN, the NBC golf commentator and Hawaii resident is taking his show to network television. His first Global Golf Adventure show will showcase Maui and Michelle Wie and air prior to NBC's third-round coverage of the Arnold Palmer Invitational March 27 at 2 p.m. ET. After that, Rolfing will take his show to Bermuda, Wales and beyond."
"I'm an adventurer myself and I like the idea of exploring," Rolfing says. "What I have been able to do, like any other person, traveler, golfer, is force myself to already start learning about the places. I have never been to Bermuda, but I am already forming my impressions. It is very small ... I'm excited to see, in some ways, what golf can look like on a smaller scale. And I'd like to do a show from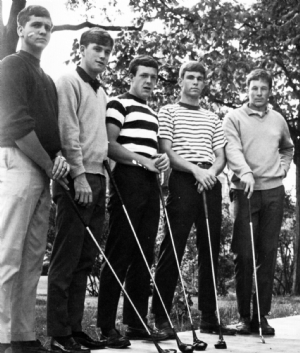 New Zealand and we're going to go to South America -- because that's where the game is going. Golf will be in the Olympics in Brazil in 2016. That's what will pull me to a place I haven't been to. I will be like Butch Cassidy and the Sundance Kid going down there until I learn about the countries."
The piece notes that Rolfing played golf, basketball and football at DePauw, was inducted into the University's Athletic Hall of Fame in 1999, and that his college roommate was Dan Quayle '69, who went on to become America's 44th vice president. (at right: 1968 DePauw golf team)
"He was my roommate for more than a year," Rolfing tells the newspaper. "He was two years older than me and I kind of looked up to him. I made the varsity golf team as a freshman. He kind of took me under his wing. He was a political science major. Everything about him I liked -- I liked how he talked to the girls in the sorority. He was a great college golfer.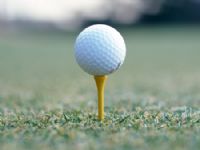 Tee to green he was terrific. His short game was a little suspect -- he never could chip the ball very well. He wasn't a great putter. He was just a good leader. He had great leadership qualities."
Access the complete article at USA Today's Web site.
Ted Katula, who coached Rolfing and Quayle at DePauw, died on February 19. His life will be celebrated in an April 24 program in historic East College.
Back