The Most Diverse Class in DePauw's History Arrives On Campus Saturday
August 19, 2010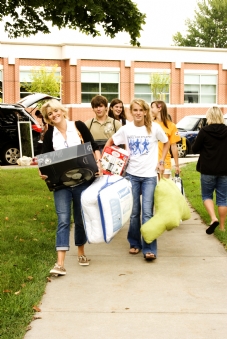 August 19, 2010, Greencastle, Ind. — DePauw University will welcome its 174th entering class -- the Class of 2014 -- this Saturday, August 21. A total of 617 first-year students will arrive with their families to move in to their residence halls and participate in the opening convocation with President Brian W. Casey and the DePauw faculty. The University will also be greeting 13 transfer students and 12 exchange students, bringing the total of new undergraduates to 642.
"This is always an exciting time of year on campus," says Dan Meyer, vice president for admission and financial aid. Noting that DePauw received a record 5,346 applications for this fall, an increase of 13% from the year before and up about 25% over the past three years, Meyer adds, "It is clear that DePauw is increasingly perceived by young scholars as a nationally recognized liberal arts college that offers them the opportunity to interact with professors in small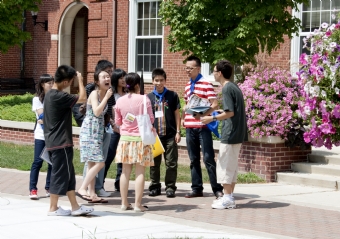 classes while enjoying the experience of being part of a residential campus. We're looking forward to bringing these talented new students into the DePauw community."
The new students come from 36 states and 22 countries. Fourteen percent of the Class of 2014 comes from countries besides the United States (32 are from China, 11 from India, 10 from Vietnam, 5 from Japan, 4 from Ghana and 2 each from Mexico, Germany and Ecuador), and 20% of the incoming class are non-white U.S. citizens, meaning that 34% of the new class (213 students) come from multicultural backgrounds, the highest total in DePauw's history.
Twenty-one percent of the incoming undergraduates are first generation college students, in other words, no one in their immediate family has graduated from college before. A total of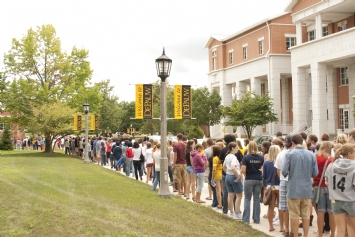 23% of the enrolling students have an alumni tie to DePauw.
The median high school grade point average of the Class of 2014 is 3.61 (up three-tenths of one percent from last year) and the median class rank is 90%. Eighty-nine of the incoming scholars maintained straight "A" averages throughout their high school careers.
Enrolled students and their families can access more information by clicking here.
The 2009 National Survey of Student Engagement, finds that the student experience at DePauw University provides far more academic engagement -- both in and out of the classroom -- than what is provided to undergraduates at peer institutions and the national average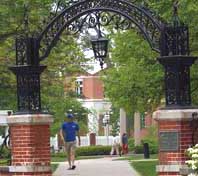 at all colleges and universities.
For the fourth consecutive year, DePauw University was listed among the "Top Producers of Fulbright Awards for U.S. Students" in a chart published in October 2009 in the Chronicle of Higher Education. It's also again one of the top colleges in the nation for the percentage of its students who study abroad, according to the 2009 Open Doors report.
Prospective students are invited to visit DePauw's Office of Admission online.
Back